Under Construction: 44-28 Purves Street in LIC
---
---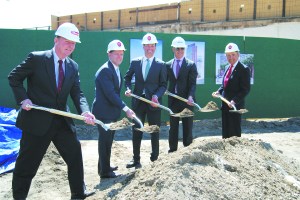 Long Island City is getting what is likely the first new LEED Silver-designed apartment building in Queens that utilizes both solar and wind power.
In addition to the LEED certification, the two-building project is slated for acceptance into the New York State Energy Research and Development Authority New Construction Program, and has been accepted into the Brownfield Cleanup Program; it is currently in the process of being cleaned up.
Under development by Brause Realty and Gotham Organization with a design by FXFOWLE, the 35-story residential rental complex at 44-28 Purves Street, bordered by Thomson Avenue and 44th Drive, is also going through the feng shui certification process, which will "ensure proper energy [moves] through the project," said FXFOWLE's Gustavo Rodriguez.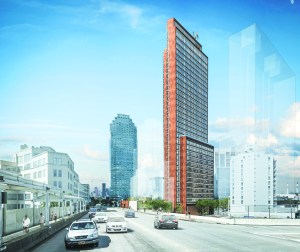 David Brause, the president of Brause Realty, said: "Wind, water and the energies of the environment are important to incorporate into the design of a building."
The building design calls for a wind turbine producing power as well as a solar power screen, a green roof, ample outdoor space and water retention tanks.
The 267,000-square-foot development will have 270 market-rate units, 26,300 square feet of amenities, 15,000 square feet of outdoor space and 75 parking spaces. Apartments will range from studios to one- and two-bedroom units, all market rate and ranging from 600 to 1,200 square feet. The rents are likely to be in the high-$50s to low-$60s per square foot, Mr. Brause said.
The amenity package is extensive, from a landscaped serenity courtyard, to a fitness center and movement studio, to a recreational courtyard that links to the two buildings and has a V-shaped pool with a 50-foot lap lane, to a grilling and bar area with communal seating and grass that looks onto a large weather-resistant movie screen. In total, the project will have more than 8,300 square feet of indoor amenity space and nearly 17,000 square feet of outdoor amenity space.
Mr. Rodriguez noted that the design and development teams "wanted to do something that was unique to the neighborhood, something that spoke to the newness and to the [spunk] and reality of the past." In addition, he said, "We tried to make sure there's a little bit of everything [in terms of amenities] for everyone."
Facade materials will include "rougher metal," Mr. Rodriguez said, as well as glass.
"The aesthetic of the project will combine the gritty industrial feel and history of Long Island City with the modern luxuries of a state-of-the-art residential building," according to a press release the developers issued about the ground-breaking on April 22. Completion is expected in two years, Mr. Brause said.
"Too many buildings, particularly on the waterfront, are out of character with the neighborhood and look like they could be in Miami," Mr. Brause said. "Instead of wiping out its industrial past, we embraced it."