Robert K. Futterman Is Expanding All Over the Map, but He's Got His Sights Set on Downtown Manhattan
---
---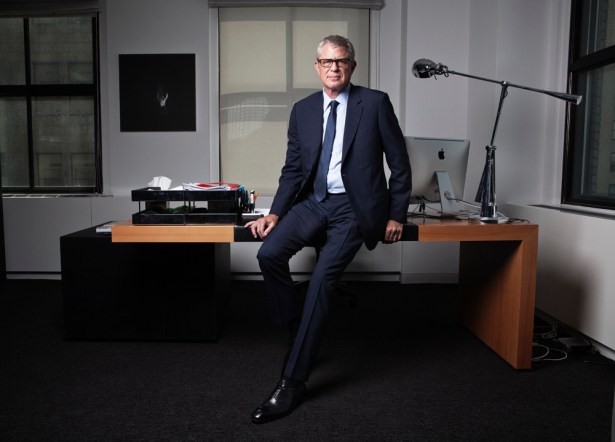 Robert K. Futterman has a packed itinerary while in Las Vegas for the International Council of Shopping Centers' RECon, but he made sure to schedule appointments with primo brokers from Boston and Washington, D.C. That's because his firm is considering a foray into those markets.
Mr. Futterman, the founder, chairman and chief executive officer of RKF (the "K", in case you were wondering, stands for Kenneth), established in 1998, has eight offices in North America with 95 brokers and 45 people in support roles. Fifty-four of those brokers are in the New York office, at 521 Fifth Avenue.
The leasing, investment sales and consulting services firm expanded its digs a year ago by 4,581 square feet, bringing its space—still under construction—to 20,987 square feet.
One of RKF's choice assignments includes working for Howard Hughes Corporation as the exclusive consultant and leasing agent for the South Street Seaport, with its more than 365,000 square feet of retail, dining and entertainment space in Lower Manhattan. Also Downtown, as Commercial Observer recently reported, Macklowe Properties tapped RKF to lease the 100,000-square-foot retail space (and it could grow to 200,000 square feet) at the base of 1 Wall Street. In Brooklyn, the firm is marketing 80,000 square feet at Dumbo Heights, a 1.4-million-square-foot complex, situated between the Brooklyn and Manhattan Bridges.
Mr. Futterman sat down with CO a couple of weeks ago to talk about what will make South Street Seaport compelling, where there is untapped retail potential in New York City and the kind of brokers that are attracted to his firm. He also put the kibosh on any acquisition rumors—for today.
Commercial Observer: Can you tell us what's going on at South Street Seaport?
Mr. Futterman: [It will become] one of New York's greatest destinations, not just for tourists but for locals. It's going to be an experiential shopping location, [like] none other in the city. With the esplanade that's being created, the Brooklyn Bridge being right above it, it's got the historical factor, great vehicular access and the building we're building at [Pier] 17 has a roof deck so they're planning events. There's going to be great shopping, great restaurants, a great market, a movie theater.
Do you think that locals are really going to go down to South Street Seaport?
Yeah, why not? I think on a beautiful day, or if you create some excitement with events that are more winter type of events, they will. It's near the subway, it's right off the Brooklyn Bridge, it's right off the FDR [Drive], there's a much stronger residential and office population that's either being filled in or exists. I'll tell you that I just saw something in Time Out New York, the No. 4 or 5 tourist destination…
South Street Seaport?
Yeah, when it was open and there wasn't anything there to go see. People want to be on the water, they want to be outside. Retail's about experience. This whole brick-and-mortar thing versus the Internet. People want to have a social experience. They want to go with their families, their wives, their girlfriends, their husbands, their children. And they want to shop and dine and be entertained and have alternatives. And they're going to have that. And it's much different than the experience that you have solo on a Saturday in Williamsburg, which is a great urban shopping experience but this is going to be a much wider, expansive outdoor experience by the water. And we've never taken advantage of the water here in New York. There's nothing happening on the water. And the piers haven't taken off.
'I'd like to say
that a lot of what I do is pitching and on occasion
it's poaching.'—Robert K. Futterman
Talk to us about 1 Wall Street.
It's owned by Harry Macklowe. We're his leasing agent. The building runs from Wall Street to Exchange Place on Broadway and has approximately 365 feet of frontage on Broadway, less the residential entrances, whatever those are. It sits right down the block from New York Stock Exchange, across the street from Trinity Church. If you look at it, it's almost the epicenter of New York: Brookfield Place, World Trade Center, South Street Seaport, boom [he points on a map at the location of 1 Wall Street].
So you're going to be competing with Westfield World Trade Center?
I don't know what percentage they actually have leased, but we have big-format spaces, and they don't. We have large format because we have so much space. We can do 20,000 to 30,000 [square feet] for deals. Plus we can do even bigger.
How many listings total do you have in New York City right now?
To break it down for you in the New York metro area, we have 280 exclusive listings. That's 174 in Manhattan, 47 listings in Brooklyn, eight in Queens, 43 in New Jersey, six on Long Island and two in Connecticut.
I think most people consider your firm a retail leasing specialist. How much of your business is in investment sales?
Here today in 2015, our investment sales activity has already surpassed all of 2014.
What properties have you sold this year?
We sold a portfolio of properties in Miami, we sold a mall in New Jersey and we sold a retail condo down on the Bowery to the International Center of Photography.
Are you planning to get into any other markets?
We've had our eyes on Boston and Washington, D.C.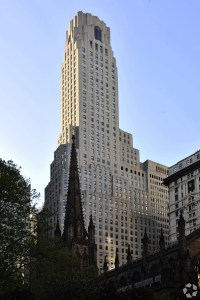 Considering or you have plans to open there?
Considering it. It's all about the people, the right people.
Are you actively talking to people out there?
I have meetings at ICSC with people from both cities.
Have you done any deals in those cities?
Yes, we've done tenant rep in those cities. You've got to realize that 80 percent [of our business is] done in New York so we're not going to open an office for the sake of opening an office. It would be driven by maybe a big project in some instances or where we see a real opening in terms of tenant representation.
So which do you see in Boston and D.C.?
I don't see enough of either otherwise we would have opened already.
In CO's ICSC issue last year you told us that you could deviate from your anti-poaching philosophy and start poaching brokers. Have you poached anyone since then?
I'd like to say that a lot of what I do is pitching and on occasion it's poaching. Good brokers at other companies sometimes plateau and sometimes maybe like our style and our sort of entrepreneurial urban sensibility and after they've moved up to a certain point, maybe working for a top broker at some other company, they feel like it's time to move on. We've become a great fit for a lot of brokers who've been in the business for several years, young people and experienced people. We've just expanded our offices and believe it or not, we're full; we might need to take more space.
Have you made any good poaches recently?
There are a few people that have come from other companies but I don't think their names are important.
There were past reports that CBRE was seriously considering acquiring your firm. Were you actually in discussions with CBRE last year?
Let me tell you what's happening. Naturally, with the consolidation occurring in our business, we've had several suitors and interested parties. There are no plans to sell the company as of today.
Are there any plans on the horizon?
No.
But you did have meetings about an acquisition?
They were very informal.
What would have made you say, "Hey yes, I am going to do it"?
RKF is all about the people, the culture and the brand. If somewhere down the road somebody wanted to buy an interest in the company, which presently I have 100 percent of, and keep the focus on the people, the culture and the brand, I would never say never.
Are you looking all over Manhattan?
Yes. It's hard to find 60[,000], 70,000 feet.
With Anthony Bourdain's food hall negotiating Downtown will it be facing off with Eataly [which is coming to 4 World Trade Center]?
It's interesting—we put a Fairway on 86th Street on the Upper East Side and then we get Whole Foods at 87th to 88th [Streets] on Third [Avenue]. How can both of them be there? Believe it or not, there are other food markets looking on the Upper East Side.
Isn't that bad for business?
No, it's so dense. Go into these stores and they're packed to the rafters.
Is big-box out of style?
It's not out, it's been modified. There was a time that Best Buy and Circuit City would take 40, 50, 60,000-square-foot stores. Bed Bath [& Beyond] would take at least 60, 70,000 square feet.
In today's market, it's hard to find that space and afford it. The business has changed. You don't see a Best Buy opening with 40,000-square-foot stores in New York and if they do have that prototype, I don't represent them. They could probably figure out how to do that in a smaller format. You do see it in some cities. In L.A. you see urban Target, or CityTarget. They've also opened up one in Chicago on State Street. I would say the bigger boxes are modifying their size requirement. They're shrinking but the good news for us is that they still want to be in the cities because that's where they do the most volume.
Upper Fifth Avenue is the world's most expensive for retail rents. Can rents go any higher?
Probably. There are some tenants who just have to be on Fifth Avenue because they need to scream out to the world "I'm on Fifth Avenue." It's not about the rent, it's an advertisement, a statement.
How much higher could they go?
Depends which part of Fifth. I've heard about some deals [in the 50s] that are over $2,000 a square foot.You could go up 10, 15, 20 percent.
Do you think they will?
I think it's possible. I think north of Saks, many investors believe the rents will go higher.
Is there any market left in New York City, for retail, that hasn't really been tapped into?
The Lower East Side has untapped potential. I think it got passed over when people moved to Brooklyn. You're starting to see Ludlow and Essex and Christie Streets come together. There's a huge development on Delancey Street called Essex Crossing, which I think will be a game changer. We have some tenants that want to be there. I like that area for some growth. Let the dust settle near the Hudson Yards and Chelsea North. That area is going to get really busy—West Chelsea up to the Hudson Yards.
What about in the West 40s to West 57th Street on 11th and 12th Avenues? (See story on P. 34.)
That should fill in, too, in time.
If there's nowhere to go, right?
It starts with residential. It starts with services and then neighborhoods evolve.