Joseph Moinian Has Sold Off Two of His Towers and Is Focusing on the West Side
---
---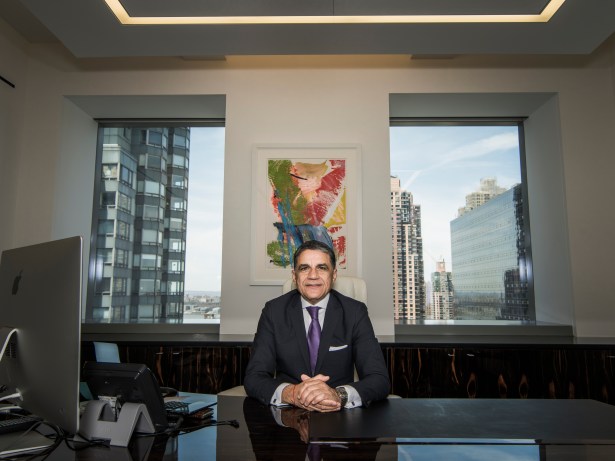 Behind Joseph Moinian's desk is a glimmering view of the Hudson River between the buildings that separate his 3 Columbus Circle office from the Far West Side. While his back might be to the area, Mr. Moinian has a live feed of one of his buildings under construction in that area on a flat screen.
That building would be 605 West 42nd Street at the corner of 11th Avenue, dubbed "Sky," where construction has topped off. That's going to be followed by 3 Hudson Boulevard—a 1.8-million-square-foot office tower that will sit atop the new 7 train station at West 34th Street—adding to the property Mr. Moinian has built on 11th Avenue.
"If you think of it, it is not only the nicest, well-zoned area. It has a lot of greenery," he told Commercial Observer in an interview last month. "We are near the water. We have spectacular views."
While the developer is focused on his two shimmering buildings in that neighborhood, his firm is busy with disparate real estate interests around the country. The Moinian Group boasts 20 million square feet of property under its control with another 5 million in the construction pipeline. That includes New York, along with Dallas and Chicago, where he owns an interest in the soon-to-be sold Willis Tower.
The National Basketball Association's flagship store is moving to his 535-545 Fifth Avenue between West 44th and West 45th Streets and is expected to open at the end of this year. Mr. Moinian said his company is still looking for a tenant to fill the remaining 60,000 square feet of retail in the building—where he believes he possesses some of the best retail space in Midtown.
"We break records on our sidewalk count," he said. "We are better than the 50s in terms of foot traffic."
And while The Moinian Group and SL Green Realty Corp. sold their 180 Maiden Lane for $470 million earlier this year, Mr. Moinian said he still has a deep love of Downtown. The firm still has a sizable portfolio there including the W New York-Downtown Hotel & Residences at 123 Washington Street.
But everything comes down to family for Mr. Moinian, whose sons are also in the real estate business. Right down the hall from his bright corner office, Mr. Moinian's son Mitchell has an office (Mitch was a protégé of his father's friend, Bruce Mosler of Cushman & Wakefield.) Mr. Moinian told CO he wants his five children to learn the business practices that have been passed down through his family, including smart investment and good community relations.
Commercial Observer: Can you talk about selling the Willis Tower in Chicago and 180 Maiden Lane?
Mr. Moinian: We are still in contract [on the Willis Tower]. We will close shortly. It was the biggest sale outside of New York [in terms of price]. It is the biggest building outside of New York, also. We were lucky and we worked hard so it really paid off well.
As for 180 Maiden Lane, we decided to sell profitably with our partner [to MHP Real Estate Services and Clarion Partners]. We owned it half and half with SL Green, [a firm] we admire and respect a lot.
What else do you have going on Downtown now?
We own a combination of buildings Downtown. It's a campus called 17 Battery South, 17 Battery North and Ocean. The building [Ocean] is a true great asset all the way on the tip of Manhattan. So there's no more building south for us.
I love Downtown. I love the players in Downtown. I believe in Downtown. If you go back 10 years, it was for us what we think of the West Side [and] Hudson Yards now. If you go back five years before those 10 years, our main focus was Midtown South, which today is like the Paris of New York. It's hard to imagine the velocity and what's going on. We are very happy to have started in that area. We were priced out. We went Downtown: priced out. We came to the West Side; [we are] hoping to get priced out of this [area], too.
How did you get involved in the West Side?
So we are in the late-'90s—we started buying along Eighth Avenue. There were three major assets and we absolutely loved [the area]—to the point where the prices escaped us. We looked and said, "How can we bank on this experience?" We went more west—Ninth and 10th did not excite me at all. But when we got to 11th I saw the water. That's where we got very excited.
In the next five years we will have over 5 million square feet built. We have Sky, the 1,175-unit residential rental building on the corner of 42nd Street and 11th Avenue, which is topped off. Tenants will be moving in in 2015.
Where does 3 Hudson Boulevard stand right now?
The project is fully designed. We will be starting construction very, very soon. After several months of foundation work, we are hoping to deliver a ready building in 2018 for tenant fit out.
'I really think maybe 10 years ago we were not anywhere. I think five years ago, for lack of better words, the whole area [the Far West Side] became pregnant.'—Joseph Moinian
Correct. So 235 apartments are affordable. We are starting the rental [process] soon on the 235 and we are starting on the other 900-some-odd very soon also. We are about to open our rental office in the next 30 days. We are very, very happy and feel very, very confident that this building will be rented up in a short period of time.
We went all the way out on the amenities and the finishings on this building. We went top-of-the-line Italian kitchens.
You bought this property 10 years ago. How does it feel to see it this far along?
It's a long time coming as far as the project is concerned. This was four different pieces of property that we put together. It took not only the sophistication of all the purchasing of the full properties, but this asset went through the downturn of the economy. We were happy to carry it through this period, but it went through that.
What's going to be the signal that the neighborhood has really arrived?
It depends; to me it already arrived. But to somebody who has not much to do with real estate, maybe it's coming. To me, this is as good as it gets in terms of a submarket being born. I really think maybe 10 years ago we were not anywhere. We just knew there's a great piece of Manhattan that's available to do something. I think five years ago, for lack of better words, the whole area became pregnant.
A lot of your buildings are at around 90 percent occupancy. What sort of tenants do you look for in these buildings to get those high numbers?
Of course, we have banks and lawyers and all sorts of tenants—thousands. But I think if you asked me, "Joe, in the last 18 months, what was your main type of tenant?" And at the same time, "what do you see in the next 18 months?" I have to say the majority of my tenant leases have been in education, health care and technology.
They are some of the biggest employers in the city now, too.
Yeah. So these are the three I feel very comfortable [with]. People want to be healthy. People want to be educated. People want to get far with technology. We love and respect every other tenant we have. We will serve them and love them to death. But these are the three, I think, that are going to be around for a very long time.
What went into enticing the NBA to move its flagship store to 535-545 Fifth Avenue?
NBA moved out of 666 Fifth Avenue. For the last, I would say three years, they were on and off looking at several projects. We take it as a huge compliment that they went all around the city's best locations and they chose one of the two corners that I have on my Fifth Avenue building. NBA took 24,000 [square feet], and then we have 60,000 [square feet of retail space available to lease], which is the rest of the block. They are in the midst of building this great store, which we love and would do anything possible as partners to help them open.
Forty-fourth street, the cross street, is the most active walk because of people traveling in and out of Grand Central.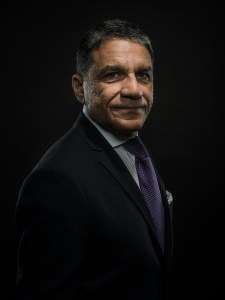 Are you a basketball fan?
I am definitely a basketball fan. To the point that I hope that we have a better team next year. Between myself, the company and my family, we really are a good supporter of the Garden and our Knicks. But we would like to see more talent. Only one [Carmelo Anthony], I don't think, can carry the weight, even though he's a dynamite player. He's excellent in every which way. Precision, talent, ability. Ugh, he's very powerful. [But] he needs assistance.
Have you ever met Carmelo?
Oh yeah! He is a very good friend of ours. He's been [to the office] several times. He is a real good human being. Very sweet.
Several members of your family are in the real estate business. What's the family dynamic like?
I'm the older of the brothers, followed by David [of Moin Development Corp.] and Morris [of Fortuna Realty Group]. [We are] all in the real estate business. The majority of our holdings are separate, though we have some things together. And coming into the Moinian Group world, we work with Matthew Moinian and Mitchell Moinian—they are my sons—and there are other Moinian family children out there getting experience that we're trying to recruit. We don't seem to be having much success yet, but hopefully soon.
The new generation is following the same thoughts of investment, finance, development and most importantly our respect for the community and our heritage. So hopefully one day they will hand it down to their family as we go along.