FiDi Retail Space Hits Rental Market
---
---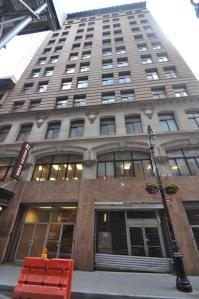 The retail space at 116 Nassau Street in FiDi has hit the rental market, Commercial Observer has learned.
The building is apparently a very hot property; three separate tenants took a combined 26,500 square feet in the building, as CO reported last month. Park Row South Nassau Street LLC took 11,365 square feet in its lease, the New York City Gay and Lesbian Anti Violence Project signed a lease for 9,000 square feet and TAP Electrical Contracting Service inked a deal for 6,134 square feet.   
The available, 32,000 square foot space is being marketed by Coldwell Banker Commercial Alliance.
The 141,000-square-foot building includes 11,800 square feet of space on the ground floor, 12,900 square feet on the second floor and 7,000 square feet on the lower level.
Gregory Gang, Catherine O'Toole and David Danick of CBC Alliance are marketing the retail space.
Asking rent for the entire space is $2.4 million per year, according to CBC Alliance.
Part of the available space was formerly occupied by the Chinese Cultural and Education Center, as an accommodation by the landlord, Mr. Gang said. The target tenant is now either a national retailer or one with a large, existing presence in New York City, he added.
FiDi could be a particularly hot spot for a retailer, Mr. Gang said, considering the number of students, residents, tourists and workers that frequent the area.
"Those four different component make it very compelling for a major retailer to want to be down there and try to service those four demographic target audience," Mr. Gang told CO. "It being one of the larger blocks of retail, I think it's a very unique opportunity for someone."