The Plan: Peloton Headquarters at 158 West 27th Street
---
---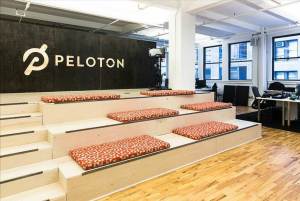 The spinning invasion of Manhattan is old news. Indoor cycling studios blanket entire neighborhoods and many of the city's beloved gyms offer multiple classes a day. But fitness company Peloton has gone the extra mile, offering classes with its custom bike inside one's apartment.
"[Our bike] allows members to take a live or on-demand spin class whenever they want," said John Foley, the chief executive officer of Peloton, which was founded in 2012.
For years, the company executed  its mission out of its shoebox-sized headquarters on West 29th Street and Seventh Avenue. Mr. Foley said the space was designed for 10 people; once the number of employees working in the office reached 25, he knew it was time to move out.
Last spring, Peloton signed a lease to relocate its headquarters to Emmes Asset Management's 158 West 27th Street, where since August, it has occupied the entire fourth floor. The company moved in while the space was incomplete, and Mr. Foley noted it is now "pretty close to being done."
Brooklyn-based Bernheimer Architecture was behind the design, which Mr. Foley describes as "modern, clean, progressive [and] hip." The trading floor style means there are no barriers to communication.
This aesthetic is the norm for a technology company. The majority of the 75 employees working at the headquarters are software engineers.
"We are as hard-core a technology shop as Facebook or Google," said Mr. Foley. "Our software is super sexy, hard-core technology."
This technology includes each bike's Peloton computer, which is sweat-proof and has all the metrics avid cyclists would need, including one's power, speed and heart rate while spinning. The bike costs $1,995 and can be purchased at one of the company's eight showrooms (including in New York City, East Hampton, Short Hills, N.J., Paramus, N.J. and Westchester). For a subscription of $39 a month, riders can take unlimited classes at home.
The staff at the headquarters is also disproportionately young.
"I'm 44 and I'm by far the oldest person in the office," Mr. Foley said.
These millennial employees have enjoyed the office's three kegs of beer on tap, coffee bar, ping-pong table, video game area and televisions wired to Apple TV. But perhaps the biggest perk of the headquarters is the fitness area that has a handful of Peloton bikes, where employees are encouraged to work out any time of the day. Then they can shower on another part of the floor.
"You're encouraged to eat the dog food at least a couple of times a week," said Mr. Foley.