Panelists Say It's Amenities Over Everything
---
---
[youtube https://www.youtube.com/watch?v=QdmJaxYWy-E&w=560&h=315]
TAMI is the talk of the town—and how to nurture these technology, advertising, media and information tenants was the one of the things under discussion at Commercial Observer's "Upgrade New York" panel discussion this morning.
As firms in TAMI lease more space in the city, commercial real estate experts said it's all about what amenities a landlord can provide a tenant, from space, to dining options, to energy efficiency.
"You've got to understand what these people want," said Anthony Malkin, the chief executive officer of the Empire State Realty Trust, on this morning's panel. "If you're just offering brick and mortar, you're way behind."
ESRT's hallmark property, the Empire State Building, played host to this morning's breakfast. Among those speaking on the panel included Mr. Malkin; Andrew Kimball, the CEO of Brooklyn tech hub Industry City; Sacha Zarba, an executive managing director at CBRE specializing in TAMI tenants; Alexander Saint-Amand, the CEO of tech company GLG; and David Pospisil, the manager of commercial and industrial energy efficiency programs at ConEdison. Jonathan Mechanic, the chairman of real estate development at law firm Fried Frank, moderated the panel, which was focused on the emergence of tech tenants, as well as energy efficiency in buildings.
Mr. Malkin's comment referred to creating amenities within a building that will entice tenants to opt for their office space in their property. At the Empire State Building, that includes a second Starbucks slated just to make deliveries within the Art Deco tower. There are currently seven dining options in the building, Mr. Malkin added, with an eighth on the way. The building has played home to major tenants in the tech world including LinkedIn, which now occupies 160,000 square feet in the building after several expansions.
That's been the same method at Industry City—a long dormant manufacturing site which has been cut up into smaller offices for young tech firms. In March, its owners announced $1 billion would be poured into the complex to expand, adding academic space, more room for retail and a hotel.
When Mr. Kimball took over the site, he said there were not any lunchtime stops for the tenants in the sprawling Sunset Park complex. Now, however, Industry City is focused on making the campus a destination with shared spaces for its tenants, he added.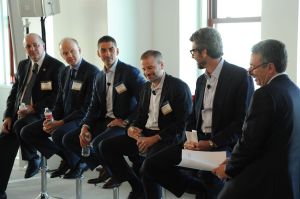 "A year-and-a-half ago when I got there, there wasn't a single place to get something to eat. There's now 30 places to get things to eat," said Mr. Kimball, referring to the industrial kitchens there that have opened food windows. "We are creating destinations within the campus, courtyards. We're cutting through the buildings to create alleyways to connect it."
Part of that has also been helping the tenant work with the space they need and shifting it to accommodate big, open spaces for collaboration in the tech world. When Mr. Saint-Amand and GLG looked at its home at 1 Grand Central Place, also an ESRT property, one architect said he wouldn't even work in the tunnel-like space, he said. The landlord, however, was willing to work on a suitable space for the tech company specializing in online learning, including installing a giant skylight and giving it a Silicon Valley feel.
The variety of spaces, from shared working spaces to single offices and a library-like quiet area, has been generally embraced by the GLG staff, Mr. Saint-Amand said, even by the lone resistor to the office layout.
Energy maintenance, especially in summer months, has also been a concern of landlords and tenants, the panelists said. ConEd has implemented an energy management program for landlords who are customers to incentivize better-use of power during those hot months of the summer when electricity is at full voltage, Mr. Pospisil said.
"You can get the energy reduction and a demand reduction, plus there are things we're paying for through the demand management program that we've never paid for before," Mr. Pospisil said. "Because it may not reduce the amount of energy you use, but they may displace it and cause you to use energy at a different time of the day."
Mr. Zarba, who represented LinkedIn in its Empire State leases, said finding the right tenants is all about who's running the company, the volume of funds the company has raised and what sort of product they're launching. If they're a West Coast operation looking to develop a New York presence, that's an even bigger plus.
"The landlords who get it, they get it. So they know the business," Mr. Zarba said. "If they don't, then you have to come to things like whether or not they have a presence on the West Coast, who the leaders are."