Jukay Hsu is Making Queens a More Tech-Savvy Place
---
---
Jukay Hsu couldn't seem to remember the school he attended in Flushing.
He half-laughed, half-moaned that he's 30 (in his 30s, as he puts it) and forgetting things. But a "senior" moment is forgivable for Mr. Hsu who has a lot on his plate as he tries training the next wave of tech employees and figuring out where their companies will be based.
Mr. Hsu is running a nonprofit focused on advancing technology companies in Queens—organizing conferences that draw the likes of Google, BuzzFeed and Reddit. Mr. Hsu wants Queens to be the leader in tech development with more companies coming to the city thanks to a massive campus at Roosevelt Island, a stone's throw away from his Long Island City office.
An Iraq War veteran, the Queens native was the youngest member of Mayor Bill de Blasio's transition team and one of the youngest on the board of the Queens Library and tourism-promotion agency NYC & Company (he's headed to the White House this week, too, for a meeting with the chief technology officer).
His group, the Coalition for Queens, or C4Q, has been trying to figure out what technology companies need to expand their already growing foothold in LIC. So far it has found that it needs to best utilize the physical space in the bustling neighborhood, and that diversity is crucial in the process. C4Q has been training people of all backgrounds for free in how to code software with the ultimate goal of bringing them to a higher pay grade.
"Bringing the digital economy to the boroughs outside Manhattan is obviously critical to our overall city economy," said Kathryn Wylde, the president of the Partnership for New York City, a nonprofit focused on Gotham's economy. "And Jukay has been the leader of that effort in Queens. He really has become a citywide force in extending the benefits of the innovation economy into all the communities of the city—the communities of color, lower-income communities and the outer boroughs."
Mr. Hsu served in the Army from 2007 to 2011, leading a rifle platoon for a year in Tikrit, Iraq. After his combat duty, he helped economic development in Iraqi towns—leaving the military a captain and headed home to do economics here in the city. But when he came back to Queens in 2011, then-Mayor Michael Bloomberg announced the applied science initiative, which Mr. Hsu said he became fascinated with.
He started talking to Cornell University, which would win the bid for a 2-million-square-foot tech campus on Roosevelt Island, and was told Queens would be the next place for tech companies. Mr. Hsu said he started talking to people and realized LIC had the capabilities for entrepreneurial space. So he established C4Q to figure out what those startups would need going forward and make the neighborhood the next cyber goliath.
"I never expected to start a nonprofit," he said.
Within a year, however, C4Q had set out with the first Queens Tech Meetup for people in all walks of tech—from developers to marketers, big companies and two-man teams—to discuss how to reshape the sector. The April 2012 event has since spiraled into regular meetings; there are about 2,000 people currently part of the Queens Tech Meetup.
| | |
| --- | --- |
| 'We see all these talented people that live in Queens who could work in tech or create companies.' | |
The gatherings attracted the four founders of Digital Natives (a digital marketing agency), who were drawn to the budding entrepreneur community in LIC. It opted to move there, expand its business and are looking to expand its space now. Since moving in, the now six members of Digital Natives have gone from attendees of the Tech Meetup to presenters of both the This Is Queens and I Love New York apps.
"Now LIC is seen as a tech center that a couple of years ago it wasn't at all," Mr. Lackovic said. "Having an organization like that in place—already existing to have a venue for new entrepreneurs bouncing around ideas—it's really important to have an organization in place."
Tech has widely considered the sector that could replace a Wall Street heavily bruised by the great recession and new regulations. The New York City Economic Development Corporation helped establish a tech incubator in Dumbo for entrepreneurs to get small space, cheap rents and a collaborative space. Google in November signed a lease for another 180,000 square feet on the West Side.
New York salaries in tech are also some of the highest middle-class incomes out there with a demand for talent. The median salary for a Web developer in the state is about $69,000, while for a software developer that could be $99,500, according to the state Bureau of Labor Statistics. And a sizable chunk of the 91,000 unfilled jobs last month required some computer or software knowledge, said Ms. Wylde.
Mr. Hsu has been proactive in trying to expand an existing talent pool in New York City by securing grants to teach people of low income or limited education how to work computers. C4Q has received several hundred thousands of dollars in both public and private grants to run the free program, Access Code.
"There is a huge opportunity that Jukay has recognized to prepare New Yorkers for those jobs rather than importing people to take them," Ms. Wylde said. "He's had the ability to…support their business opportunities on the one hand, and on the other to focus on education programs like the coding program to prepare local residents to share in the benefit of the growth of the digital economy."
The part-time, nine-month class, Mr. Hsu said, is aimed at particularly women, minorities and immigrant communities currently barely in technology. Women make up about 12 percent of the tech workforce, he added, while African-Americans make up a mere 1 percent. Access Code bills half its students as women. Of these students, a good half is minority and/or immigrant. (And as long as we're delving into fractions, half the students come from Queens, with the others from different backgrounds in the other four boroughs.) Having a college degree isn't required. Folding in diversity is important to the collaborative nature that tech companies need if they want to expand, Mr. Hsu said.
"We feel that tech companies need technical talent," he said. "We see all these talented people that live in Queens who could work in tech or create companies. What's great about Queens is the diversity and we can leverage the diversity as an asset."
But it's also about bringing these people up the income ladder, Mr. Hsu said. Many of the students—there will be 60 people enrolled between two cohorts this year—could go from making $26,000 a year to $73,000 a year by grasping the proper technology training, he said. Nearly 600 people applied for a 30-spot class this year, according to Mr. Hsu.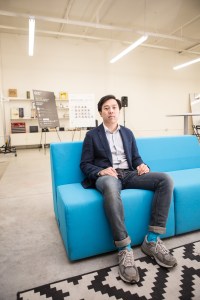 "Overall this is not just a need for diversity," Mr. Hsu said. "Tech itself needs so many more people involved. The community-building aspect is an important part of what we do. We can have people learn to code, get hired and also create companies."
Abass Bayo-Awoyemi is one of those people—graduating from Baruch College two years ago with some experience in graphic and Web design. Knowing at least basic computer code will give Mr. Bayo-Awoyemi, 24, the option to find work in any sector, he said. C4Q has provided a broad-based program that doesn't just deal with lines of code, but where the industry is headed.
"I particularly enjoy the focus on [the] industry's best practices, and how accelerated the program is," Mr. Bayo-Awoyemi said. "I almost can't believe how much I've learned in such a short time. C4Q really challenges its participants, but at the same time it provides adequate support to make sure we're all in a comfortable space."
Teaching New Yorkers how to solve software problems is just part of Mr. Hsu's tech push in LIC. C4Q's team has been looking at how to put tech companies in a space that works for their needs, Mr. Hsu said. That includes looking at how a two- or three-person startup might need twice the space it had in its first year.
"Right now our main goal is to focus on talent, but also build out on other components as well such as physical space," Mr. Hsu said. "Just like everywhere in New York, we need space and more kinds of space. We need a wide variety of space that can accommodate the growth of different tech companies in stages in their life cycle."