It's a Brad, Brad, Brad, Brad World: C&W's Brad Mendelson Has Had a Busy Few Weeks
---
---
The life-sized T-Rex dinosaur, 60-foot indoor Ferris wheel and 4,000-square-foot Barbie dollhouse will be leaving their Times Square home at 1514 Broadway between West 44th and West 45th Streets come February 2016.
Toys "R" Us decided not to renew its lease at the Times Square flagship after its lease expires, news Commercial Observer broke a couple of weeks ago. Last Tuesday, Antonio Urcelay, the company's chairman and chief executive officer, said during a press conference that "the company is still talking with the landlord and suggested it would like to stay in the building if a reasonable rent can be reached," Chain Store Age reported.
"The only person who doesn't know that is the landlord," retorted C. Bradley Mendelson of Cushman & Wakefield, who is marketing Toys "R" Us' space on behalf of building owner Charles Moss of Bow Tie Partners.
"We're not talking to them," Mr. Mendelson added, "and we have leases out for half of the building." (Since CO's Toys "R" Us story was published, Mr. Mendelson said he has received numerous phone calls from people interested in the space. The most interesting call, however, was from someone seeking to purchase the Ferris wheel.)
Mr. Mendelson won the Real Estate Board of New York's coveted "Most Creative Deal" award for bringing Toys "R" Us flagship to Times Square in 2000. Fifteen years later, the vice chairman of retail services at C&W said, the asking rent on the ground floor in the 150,000-square-foot building is $2,500 per square foot, $150 per foot on the lower level and $350 a foot on the second floor. That's about double what the toy giant has been paying.
'You either love him or you hate him.
Most people love him.'
—Alan Schmerzler
Other tenants in the Broadway building—Bond 45, Foot Locker, Swatch and Starbucks—also have leases expiring this coming February, and they did not have the option to renew. But the owner of Bond 45 told CO last Friday that he intends for Bond 45 to stay put, although he will likely have to shrink the footprint of the restaurant.
As rents become exorbitant for ground-floor space in Times Square, restaurants are likely "going to be relegated to a second floor, similar to Bubba Gump Shrimp Co.," Mr. Mendelson said. The shrimp joint is at the Paramount Building at 1501 Broadway between West 43rd and 44th Streets.
Mr. Mendelson, 67, talked with CO last week in his seventh-floor office at C&W's headquarters at 1290 Avenue of the Americas between West 51st and West 52nd Streets. His 25-year-old daughter Nicole Mendelson, a former assistant buyer at Macy's department store, was in attendance as she is shadowing her father and his retail team, "learning the entire business," she said. That team is a partnership of four including David Green, Alan Schmerzler and Steven A. Soutendijk. In addition, there is a junior broker and a marketing person.
Ms. Mendelson hopes to get a desk at the firm imminently (she said she is expecting her contract to be prepared this week), and one that is far away from her father's office, so she isn't tempted to eat the cookies and cakes that he bakes and brings in to the office on Mondays.
Those baked goods are one of the reasons Shelly Fireman of Fireman Hospitality Group, the owner of Bond 45, looks to Mr. Mendelson to fill his real estate needs.
"He makes great cookies so I also allow him to be my broker because he brings me cookies," Mr. Fireman said.
Mr. Mendelson helped Mr. Fireman find a 7,000-square-foot space for his recently opened Florian restaurant, at 225 Park Avenue South between East 18th and East 19th Streets. The broker also assisted Mr. Fireman with renewing leases for Brooklyn Diner and Red Eye Grill in Midtown.
"He has the personality that makes both sides feel comfortable," Mr. Fireman said. "There's a sense of integrity that he's working for you and you know he's thinking about the landlord."
When Messrs. Mendelson and Schmerzler work together on a deal, their skill sets don't overlap. Mr. Mendelson is a big-picture guy, "more of a relationships manager," and problem-solver and he is quick to draw conclusions, Mr. Schmerzler said. Mr. Schmerzler, on the other hand, focuses on details and the day-to-day issues.
"There's something to be learned from him every day," Mr. Schmerzler added of Mr. Mendelson.
A unique feature of Mr. Mendelson's team is that the partners "have fluid commission splits amongst four of us based on everyone's roles," Mr. Schmerzler said. "There's always a minimum." The foursome developed the commission system about two years ago and has never had a discrepancy over a split, Mr. Schmerzler said.
The advantages of their commission system, Mr. Schmerzler said, are transparency, strengthening of the partnership and motivation to refill the pipeline.
"Based on our deal pipeline, it has fairly compensated the four of us for our efforts and input on every deal," Mr. Schmerzler said.
Mr. Mendelson, who is fluent in French, has a colorful past and great hair, which he used to wear long. He rode a motorcycle (he owned a Harley-Davison Road King and a BMW 1200 and retired from riding five years ago after two friends died in motorcycle accidents), played the drums and sports a tattoo of his kids' initials intertwined around his left bicep. Ted Koltis, the executive vice president of leasing at the Paramount Group and a current client, recalls riding with Mr. Mendelson to the Adirondacks, staying overnight in a small town, telling stories and riding back the following day. As for Mr. Mendelso's first name, the "C" stands for Charles, "but I have never been called by my first name," the broker said.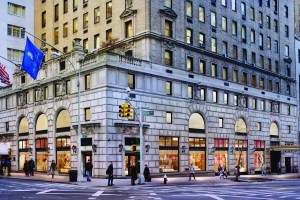 Many people consider him to be a retail king with a vast Rolodex. (Mr. Schmerzler recalled when he was interested in contacting the CEO at Gap Inc., Donald Fisher, as a prospective tenant, and Mr. Mendelson found the guy's vCard, called him, and within 15 minutes Mr. Schmerzler was on the phone with Mr. Fisher.)
"He's passionate," Mr. Koltis added. "You can call him at two o'clock in the morning, and he'll go through the deal you might be working on with him."
Mr. Mendelson's passion is contagious, but some say it can sometimes be overwhelming. For example, one morning last week when he was on a conference call with landlord Paramount Group and a potential tenant, Mr. Mendelson kept interrupting Mr. Koltis to speak on behalf of Paramount. He kept saying, "If I may… If I may…" said Mr. Schmerzler.
"You either love him or you hate him," Mr. Schmerzler added. "Most people love him."
Mr. Mendelson leased L&L's 40 West 53rd Street to Fogo de Chão Brazilian Steakhouse a year and a half ago, and now he is leasing about 40,000 square feet below grade at 1633 Broadway for the firm. A luxury retailer is nearing a deal for the space, which will have a glass cube, à la Apple, out front, Mr. Koltis said. The asking rent is $100 per square foot.
Other Midtown assignments Mr. Mendelson has are the 42,600-square-foot retail condominium vacated by Borders bookstore at 461-465 Park Avenue and H&M's current 60,500-square-foot Manhattan flagship store at 2 Herald Square or 1328 Broadway at West 34th Street and Broadway.
Mr. Mendelson has particular expertise in the Times Square area. That's why Cora Cahan, the president of The New 42nd Street, a non-profit organization that restores and finds appropriate uses for seven neglected historic theaters, has relied on Mr. Mendelson for leasing. The organization has 99-year net leases at the theaters, which span West 42nd Street from Broadway to Eighth Avenue.
Mr. Mendelson brought Pax Wholesome Foods to 225 West 42nd Street not long after the building opened in June 2000, Ms. Cahan said. When Mr. Mendelson left the firm that eventually became CBRE for C&W, Ms. Cahan stuck with him.
"We know how to work together," she said. "We like each other." She added that he is "one removed from a Damon Runyon character."
Since the Pax deal, Mr. Mendelson has focused on Times Square Theater at 225 West 42nd Street between Seventh and Eighth Avenues for Ms. Cahan. He brought Ecko in for a six-and-a-half-year period, before it bailed early, and then Broadway 4D Theaters, which left last July. Now, Mr. Mendelson is bringing by potential tenants to check out the 26,000-square-foot theater.
As for the whole of Midtown, Mr. Mendelson said, commercial real estate is hot.
"Rents are as high as they've ever been," the broker said. "Fifth Avenue rents are reaching the 5,000-per-square foot mark. My advice to…[tenants who have] a store on Fifth Avenue is to renegotiate your documents now and stay as long as you can because when you're lease is up, sticker shock may scare you away," he said.