Online East Harlem Sale Claims Record Price
---
---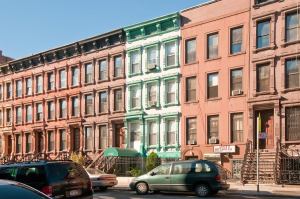 An online real estate bidding site is boasting a new record for a recent sale in East Harlem.
Auction.com, a California-based e-bidding real estate site, oversaw the sale of 1700 Lexington Avenue, between East 106th and East 107th Streets, that wound up selling for $607 per square foot—a record for a one- to four-family home in the neighborhood, they boasted.
The bidding on the 3,552-square-foot structure lasted between Dec. 17 and Dec. 19 before finally closing at $2.2 million, according to Auction.com. The sale finalized on Feb. 19.
The four-story walk-up has two two-bedroom units and two one-bedroom units, with an option to convert the first floor into retail, according to the website.
Carlos Olson of Eastern Consolidated represented the seller, who is listed as Eva Robledo in public records. The buyer, according to property records, was 1700 Lexington Holding LLC.
"The Manhattan property's location––in close proximity to restaurants, retail, parks and the No. 6 subway line––in addition to the apartments' flexible month-to-month leases, made this a very attractive opportunity that achieved a record $607 per square foot price for a one- to four-family building in East Harlem," Mr. Olson said in prepared remarks.
Eastern Consolidated ran a search of buildings in the address' class on property search sites to determine that the sale was a record in terms of square feet, according to an Auction.com spokeswoman. An Eastern Consolidated analyst found that the last record for this building type was a 2007 sale of 405 East 118th Street. That building sold for $556 per square foot, according to the site, or 9.2 percent lower than last month's sale.
"Clearly the area is becoming more valued by investors who see value," said Rick Sharga, an executive vice president of Auction.com. "The level of interest there was in the property, it does suggest this area is…on the upswing."