Icon Buys UES Building That is Home to Fig & Olive for $9.8M
---
---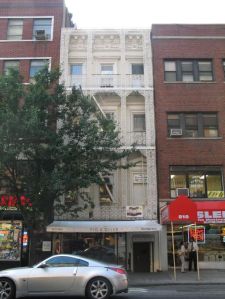 The mixed-use building on the Upper East Side that houses the uptown Fig & Olive restaurant is off the market, according to brokers who negotiated the sale.
Developer Icon Realty Management bought the 6,400-square-foot building at 808 Lexington Avenue between East 62nd and East 63rd Streets for $9.8 million, or $1,500 per square foot, according to a spokeswoman for Kinsey Capital.
Kinsey Capital's Brent Glodowski as well as colleague James Kinsey represented Icon and the seller, Julian Bivins II, in the deal. The brokers were not available for comment, according to the spokeswoman.
The top floors of the four-story building are residential, with Fig & Olive occupying 3,100 square feet on the ground level, according to CoStar.
Mr. Bivins inherited the property from his mother, Lorna Bivins, when she died in 2011, according to The Real Deal. Five investors sued Mr. Bivins for selling the Scribner Mansion at 39 East 67th Street for $22.5 million—alleging he stiffed them out of 20 percent of the proceeds after covering the mortgage for the mansion, 808 Lexington Avenue and other properties, according to the publication. That case is adjourned until next month, according to court documents.
The portfolio of Icon Realty, led by Terrence Lowenberg and Todd Cohen, includes 1,800 residential units on the Upper East Side and the Lower East Side and in Chelsea. Icon has previously purchased high-profile residential properties including the former home of painter Judith Rothschild at 1110 Park Avenue and the Malcolm S. Forbes townhouse at 11 West 12th Street, as Commercial Observer has reported.