How the Walentas Family Ended Up With a $2B W'burg Project and Why Jed Calls His Dad David
---
---
There are few names more synonymous with Brooklyn real estate (and Dumbo in particular) than Two Trees Management Company. Indeed, the company owns and manages much of Dumbo with 12 buildings comprising more than 3 million square feet of commercial and residential space. All told, the company's holdings include more than 4 million square feet of built commercial, industrial and residential real estate throughout the United States.
Led by company founder David Walentas since 1968, Two Trees single-handedly transformed Dumbo—the acronym for Down Under the Manhattan Bridge Overpass—from a neglected waterfront into one of the priciest mixed-use communities in the city.
With David's son Jed Walentas running the company for the last several years, the Dumbo-based company has tackled many significant projects. Two Trees is redeveloping the 11-acre shuttered Domino Sugar refinery site along the Williamsburg waterfront into a mixed-use community with five buildings and seven acres of park; building the ground-up development of the 300-apartment BAM South in Downtown Brooklyn; completed the 17-story 60 Water Street at Dock Street in Dumbo with its loft-style rental apartments and erected the Wythe Hotel at 80 Wythe Avenue in Williamsburg.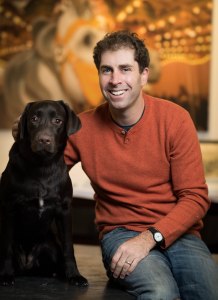 Commercial Observer sat down with Jed Walentas, a principal at the firm, last Thursday, the day that construction commenced on the first building at the $2 billion Domino Sugar project. The fence was being erected at Site E, the inland residential building, and the firm announced it was breaking ground this Monday. Mr. Walentas was running 15 minutes late; when he arrived, his bouncing brown Labrador retriever puppy, Aggie (named in part after Mr. Walentas' wife's grandmother), was leading him. Aggie noisily and messily devoured a bone during the interview, and at one point Mr. Walentas interrupted himself and said it was "just gross." The 40-year-old Mr. Walentas, clad in his typical jeans and sneakers, talked a lot about Brooklyn—and a bit about Two Trees' Manhattan office building renovation at 50 West 23rd Street—which seemed fitting for CO's Brooklyn issue.
Commercial Observer: When exactly did you assume the responsibility of running Two Trees?
Mr. Walentas: It was never like that. There was never a conversation or a moment. I think with everybody, David's attitude was like: the more responsibility people can take the better. He was never proprietary with that sort of stuff; I don't think it was just with me. I graduated from [the University of Pennsylvania] in '96 and came here in '97 and Amish [Patel] came in '98. He's my best friend and business partner who kind of runs the company with me now. We went to college together. He's excellent. The three of us had a meeting yesterday to talk about what we're doing over the next year and strategic stuff. The three of us work pretty well as a triumvirate here. In a lot of ways it's still [David's] company.
So you don't call him Dad?
I've never called him Dad. Even when I was two, I called him David. I understand why to people it's like "oh my God that's so weird." It wasn't like a thing. It just started to happen that way. I guess everyone else called him that. I guess they thought it was cute. They would know better than me.
Do you call your mom, "Mom"?
Yeah, I didn't call her Jane.
Why don't you live in Brooklyn?
No real reason. It's not like a binary decision to me, like "Oh I should live in Brooklyn or I should live in Manhattan." I just kind of live where I live and it just happens to be in Manhattan. I've always lived in Manhattan. Always, always, always… I would not like to live in Dumbo. I definitely like to get out of Dumbo. Like everything here… it's hard for me to be here and not feel like I'm at work in Dumbo, no matter what I'm doing here. My parents live here, too, so it's nice to get a little space and separation.
Your first out-of-college job was with Donald Trump. What was your dad's reaction to you working for Trump?
He was incredibly supportive in terms of that. First job out of school is always weird, you don't know anything. You don't really know how the world works. He was insistent that I don't come work here as a first job, which I think was very sage and good advice. It's good to go somewhere where there's no chance where you could get treated any differently than you deserve to get treated. I think it would have been weird if I'd come here right out of school. I had a great experience with Donald. My immediate supervisor gave me an unfathomable amount of responsibility which was awesome for me, and hopefully I lived up to his expectations. I was 21 years old; I started there three days after I finished school. I had no fucking idea about anything.
Who do you partner with on your projects?
We don't have any partners anywhere. We run it like an old-fashioned real estate business here. I'm not saying we don't have any lenders, but we don't have any equity partners.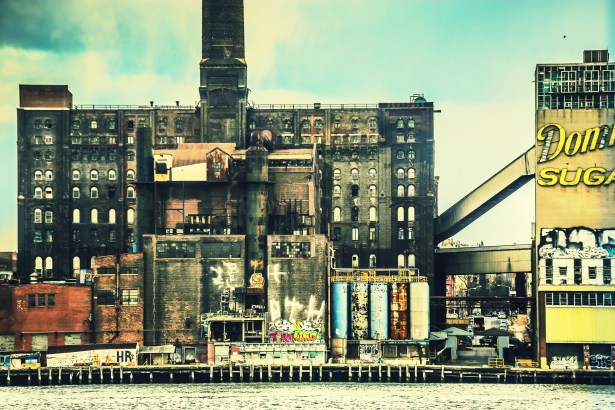 The Domino Sugar Factory development site is a 4-million-square-foot mixed-use project. Obviously it has a lot of moving parts. What's been the most surprising aspect of the project?
I don't think anything has been surprising. I spend most of my day trying to make sure there are no surprises. Maybe I'm surprised that the plan we came up with is as great as it is. I think the plan we came up with is really spectacular and I hope history will prove me right, but no, there haven't been a lot of surprises. We wouldn't have gone through the ULURP process [Uniform Land Use Review Procedure] if we didn't expect to win, and we won. We expected to make some concessions, and we did. We weren't surprised that the community was representing its interests as they should and have a right to, the same for City Hall. I think we all could have conducted ourselves a little better in hindsight but at the end of the day, it was a business negotiation.
How could you have conducted yourself better?
My business is very personal to me, and I think there are lots of times when that's a tremendous advantage to us. It generally is one of the reasons why our project is so good and so thoughtful. In the spirit of a negotiation where this is the only thing you care about and the people on the other side have an entire city to run, taking all that personally is probably not the best approach. Those folks were all new there; we'd been at this for a couple years. The dynamic of having all new people to deal with was not anybody's fault, but it makes for a tougher negotiation. With any negotiation, you hope for consistency from beginning to end, and for reasons beyond anyone's control that wasn't the dynamic here. It was a big complicated deal, and it was one of their first things and they had a lot of stuff to work out internally. At the end, I think everyone is happy [with] where we ended up. We can yell and scream at each other occasionally and get pissed off, but at the end of the day, with any project of this scale and public importance, we're partners with government, and it's good.
You had an issue with the mayor over the amount of affordable housing at Domino. You've upped the number of affordable units to 700 from 660, right?
Our deal was a little unique because we had an existing approval that we build as-of-right, but the additional 40 units is probably a $20 million investment.
What was the inside situation with the mayor? Who caved?
I don't think anybody caved. I think it was what it was. I think the mayor had a responsibility to cut the best deal he could for the taxpayers, which is the mayor's responsibility, and end up with the best project possible. And we had a responsibility to protect our investment and to agree with things we could really execute in the future… Our project straddled the two administrations and it put all of us in a weird spot. It had a preexisting approval. I think we're the only project, certainly in recent times, where anyone has gone back when they had an approval like this.
Why didn't you go with the existing plan that was already approved when you bought the site?
As an organization, we thought we bought great real estate and as we were very transparent through the public process, [and when you spend] eight or 10 years of your life on something, and it's as personal as our work is to us, you want to build something you believe in. We think this plan is better in every way. It's a better urban plan. It's better for the community, it's better for us, it's got more affordable housing, it's got better affordable housing, it's got better open space, it's got better mixture of amenities, it's got better architecture. I don't think in any way it's not better. It's got a better mix of commercial and residential space, which I think is really important.
How did the Walentases land in Dumbo?
David landed here. He tells the story better than I do; I was 6. He was active in Soho and Noho. He asks one of the cute artists one day where the next hot neighborhood is and she said, "go to Dumbo," and he said, "Where the fuck is Dumbo?" [He had] never heard of it and never been to Brooklyn really. [He] came over here and fell in love.
Two Trees brought a lot of young and exciting businesses to Dumbo at first to sort of build up the neighborhood, but it's now gotten so expensive. Has Dumbo become a victim of its success?
I don't know what that means. Neighborhoods go through transformations. It's expensive? It's expensive and it's also safe. Twenty years ago it was cheap and there was no one here and you couldn't get a quart of milk. It was so desolate, there was no one to conduct crime against.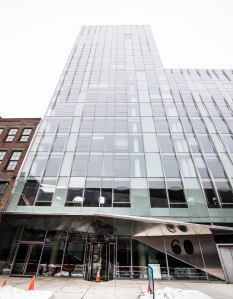 How were you able to convince tenants to move to Dumbo when it was a gritty, underutilized industrial district?
On day one, you always compete on price. That's not totally true. A huge reason we competed was on price. The Dumbo environment has become a place where people want to be in every way. The things that happened was a broader shift in the city.
Dumbo and Williamsburg are not pioneering neighborhoods by far—if you were trying to get a foothold, where would you look now?
We're in the middle or the end of a massive real estate boom. We are not out there looking for a lot of things to do.
Are you bringing a Brooklyn-style of marketing to 50 West 23rd Street in Manhattan?
We want to bring our approach to things. People associate us with Brooklyn. I don't know what Brooklyn [style] means. Our style is we try not to hassle people with stupid shit. These tech tenants require a lot more flexibility from a landlord. We're going to get tech tenants at 23rd Street in the broadest sense of the word—what I refer to as softer industry tenants.
What's the next place to Brooklynize—Manhattan or Queens?
I think tenants are behaving differently and are requiring landlords to behave differently. If that's a Brooklyn phenomenon, so be it. The way people run offices is different. The way companies populate the space is different. We're putting 30 or 40 percent more people in space. In a lot of ways, people associate that with Brooklyn. That culture has taken over.