Brooklyn Buyer Grabs 27 West 24th Street With Loan From Signature
---
---
Brooklyn-based MJ Orbach Associates purchased the Kaufman Organization's 11-story office building at 27 West 24th Street for $92.5 million with a $52.5 million loan from Signature Bank, records filed with the city this afternoon show.
The acquisition and financing both closed on Feb. 23. The five-year debt carries an interest rate of 3.75 percent, according to the loan documents.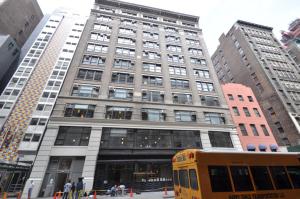 The seller put the 125,000-square-foot Flatiron office building on the market in September 2014 seeking roughly $95 million, The New York Post reported at the time.
Kaufman bought 27 West 24th Street from JH Management Company for $55.5 million in December 2012, according to city records.
Signature also financed the property when Kaufman acquired it, said the bank's head of commercial real estate lending, George Klett, who has had a more than 30-year relationship with George Kaufman.
"They improved the property, both physically and economically, and sold it to Michael Orbach," Mr. Klett told Mortgage Observer. "The value of office space in this area of Manhattan has increased substantially in the last couple of years, and this property still has significant potential."
In August 2014, the digital research and angel investment firm Chaincode Labs signed a five-year lease for 4,054 square feet on the building's top floor to establish its Flatiron headquarters, Commercial Observer first reported. Asking rents at the time were $62 per square foot.
A representative for Kaufman declined to comment. A representative for MJ Orbach said the firm does not talk to the media.