Askan Menswear Takes Retail Space at 151 Orchard
---
---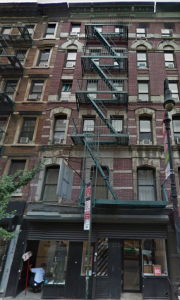 Askan, the menswear brand established in New York City in 2013, is opening a retail store at 151 Orchard Street. According to Tom Brady of Town Real Estate, who represented the landlord in the deal, the company signed a three-year lease for a vacant 400 square feet space (adjacent to clothing and accessories boutique Reed Space) last week.
Askan is expected to move in on April 1. The asking price was $120 per square foot. Central Brooklyn Realty owns the Lower East Side building, a mixed use residential building on a well know and well visited retail corridor with shopping for everyone.
"Whether you're into alligator shoes and leather jackets, custom top hats, or hip urban street wear, or rock and roll grunge attire, you can find it all on Orchard Street," said Sal Falcone Town Real Estate who represented the tenant in the transaction.
"Askan will bring a slightly different product of fine men's apparel carrying everything from suits and sport jackets, to shoes and outerwear, as well as accessories," said Mr. Falcone. "Akan will be a great addition to the block by providing an opportunity for shoppers looking for a more formal style of clothes, complementing the other styles of retailers located on Orchard Street."