Scott Klau, NGKF's Serious Broker
---
---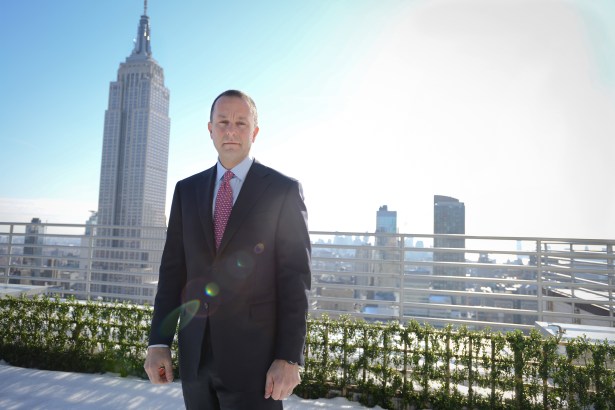 While some top brokers like to woo potential clients and retain existing ones with fancy meals, alcohol-infused nights out and exotic trips, Newmark (NMRK) Grubb Knubb Frank's Scott Klau is the opposite. With his serious, even-keeled manner, Mr. Klau focuses on winning new business by exceeding expectations on current projects.
"He wins the clients on his performance and only on his performance," not because he wines and dines people, said developer Michael Pilevsky, a co-president with Philips International. Mr. Klau has represented Philips in leasing deals at its buildings including 820 Second Avenue and 40 Rector Street.
At 820 Second Avenue near East 44th Street, Mr. Klau has completed approximately 100,000 square feet of commercial condominium sales to tax-exempt organizations, including the United Synagogue of Conservative Judaism. At 40 Rector he has sold 400,000 square feet in the last two years.
In a particularly large deal at the end of 2014, the Metropolitan College of New York bought an 110,212-square-foot, three-floor office condo at 40 Rector for $44.4 million, in what Mr. Pilevsky called "a complicated transaction." It involved providing MCNY with "a building within a building," including its own entrance and elevator. The 600,000-square-foot building is nearly 100 percent occupied.
"He's a different type of broker," Mr. Pilevsky said. "He's as successful and accomplished as the cut-throat brokers yet he has an extremely high level of integrity." Mr. Klau will do what's best for the property owner rather than what's best for his own pocket, Mr. Pilevsky added.
In a similar vein, Gerard Nocera, a founding partner at Herald Square Properties, said he appreciates how results-driven Mr. Klau is.
"I don't need a dinner, or a lunch, or a hockey game," Mr. Nocera said. "I need to lease my space. And that's what Scott does." He added: "It's easy for these guys to over-promise and over-perform as many agents will. Scott's never been that."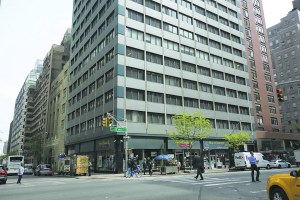 Mr. Nocera tapped Mr. Klau and a few NGKF colleagues as the agency to handle deals at the Lipstick Building at 885 Third Avenue between East 53rd and East 54th Streets after Herald Square Properties became the property's asset manager about three years ago. The building was 70 percent occupied with rents in the upper-$50s to low-$60s per square foot and today it's at 95 percent occupied with rents ranging from the upper-$70s to upper-$80s per foot, Mr. Nocera said.
The NGKF team repositioned the 640,000-square-foot building, in an attempt to restore it to its celebrated status, putting it on par with buildings further west.
"The tenants looking at Lipstick are also considering space on Park or Fifth Avenue—not Third Avenue," Mark Weiss of NGKF, who also works on the Lipstick Building agency team, previously told Commercial Observer.
The Lipstick Building includes three floors that were occupied by Bernie Madoff prior to his 2008 arrest for running a multi-billion-dollar Ponzi scheme. Mr. Klau acknowledged that there had been a bit of a stigma attached to Mr. Madoff's space, but after adding "the highest-end pre-builts" for speculative space and "focusing on the iconic nature" of the building, those days are long in the past.
"You have different kinds of agents," said NGKF President James Kuhn. "You have aggressive broker types. Then you have guys who are great, who sublimate their ego and know what the client really wants. Scott combines them."
Mr. Kuhn said Mr. Klau is unique because he's well-liked by brokers as well as owners, essential as a landlord representative.
"The one place that separates great landlord rep brokers is understanding your client is the landlord and the tenant rep broker," Mr. Kuhn said.
| | |
| --- | --- |
| "I don't need a dinner, or a lunch, or a hockey game. I need to lease my space. And that's what Scott does." —Gerard Nocera of Herald Square Properties | |
Mr. Klau's father, Howard, paved the way at NGKF. Howard Klau ran several buildings for Aaron Gural, the deceased former chairman of what was then Newmark & Company, and his son, Jeffrey Gural, now chairman of NGKF. The senior Mr. Klau set up a deal so that his son, a senior at Ithaca College at the time, could tag along with broker William Cohen for a week.
"They offered me a job," Mr. Klau said, so when he went back to college he didn't have to worry about where he'd get hired.
Mr. Klau has ascended the ranks at NGKF, having become one of the youngest principles at the company at age 36. He is one of the firm's top agency brokers and will hit his 27-year anniversary at NGKF in June and then his 49th birthday two months later.
His first-ever agency assignment was as part of a team leasing the 556,000-square-foot Carnegie Hall Tower for Rockrose Development Corp. in the early-1990s.
Today, Mr. Klau's four-person team includes Erik Harris, a senior managing director, who has worked for Mr. Klau for 20 years. Mr. Harris started at NGKF right out of college and has had Mr. Klau as a mentor since.
Mr. Klau has taught Mr. Harris "self-motivation and work ethic, [the value of] working hard, being diligent [and] good follow through in calls and conversations with owners," Mr. Harris said, describing Mr. Klau as "very nuts and bolts" and "very serious."
What differentiates Mr. Klau's team is that it is smaller than most at his company and at other firms and as a result the members are involved in every aspect of a project including consulting architects and picking finishes.
"We're incredibly hands-on in every facet of the assignment," said Mr. Klau, who is based in NGKF's offices at 125 Park Avenue between East 41st and East 42nd Streets.
The team members handle eight to 10 agency assignments at a time rather than 15 like larger teams. "We live them and breathe them," Mr. Klau said.
Mr. Klau is also one of the top 10 moneymakers at the firm. He is in the office by 8 a.m. and departs by 6:30 p.m. so he can be at home in Westport, Conn., at 7:45 p.m., in time to see his 9-year-old daughter and 14-year-old son before they go to bed. He takes the weekends off. "During the week I like to think I'm very efficient," Mr. Klau said.
Thomas P. Durels, the director of leasing and operations and executive vice president at Empire State Realty Trust, described Mr. Klau, who is the agent at ESRT's 112 West 34th Street and 1400 Broadway, as "well-regarded in the industry" with "much market knowledge."
Mr. Durels credits Mr. Klau with shifting the identity of 1400 Broadway from a former Garment Center building to a "corporate office location," as well as creating a building that was a "game-changer" for the submarket.
Because of Mr. Klau's diligence Interpublic Group seriously considered 1400 Broadway between West 38th and West 39th Streets for a relocation, Mr. Durels said. "It was really with Scott's persistence and his ability to articulate the benefits and the advantages of our building and our location that persuaded the tenant to relocate at the property."
The advertising agency signed a lease for roughly 90,000 square feet in the building in 2013. That "represented the significant change in the Times Square south submarket," Mr. Durels added.
Other tenants in the building include On Deck Capital and VeriFone Systems.
Messrs. Klau and Kuhn represented ESRT last year in relocating several Macy's office divisions to 120,000 square feet at 112 West 34th Street from the Hippodrome building.
A NGKF lifer, Mr. Klau said he has "sort of grown up" with Barry Gosin, the chief executive officer of NGKF, Mr. Gural and Mr. Kuhn. The trio has demonstrated "hard work and integrity," Mr. Klau said.
From Mr. Gosin, Mr. Klau said he has learned to ask himself, "How can you get better each day and do better and not just do what's customary?" From Mr. Kuhn he has adopted the traits of being "focused and having integrity." And Mr. Gural demonstrates "humility."
His adoption of those traits have paid off.
Mr. Weiss said of his colleague: "I think he's just a super star. He doesn't make any fuss, meaning, he's just quietly very successful."