RadioShack's 68 NYC Locations Hit the Market
---
---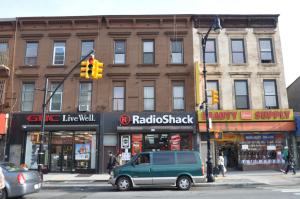 Following filing for Chapter 11 bankruptcy protection earlier this month, RadioShack, once the world's largest electronic retailer, has put all of its nearly 70 New York City locations on the market.
Last Monday, RadioShack put its 68 stores in the five boroughs, ranging in size from approximately 1,000 to 3,000 square feet, up for sale. None of the storefronts have been leased yet, according to commercial real estate firm A&G Realty Partners.
The same day that the stores went on the market, A&G Realty Partners devised a database of all of the Radio Shack real estate, according to New York Business Journal. Andy Graiser, the co-president of A&G Realty Partners, told Commercial Observer that his company is responsible for selling the leases of 1,622 Radio Shack stores nationwide that are currently going through a store-closing program, including the 68 in New York City. (This is not the first time the company will be closing a significant number of its retail locations. In March 2014, Radio Shack announced plans to close 1,100 of its stores.)
"They have a lot of good real estate," said Mr. Graiser. "The problem that we're going to have to deal with is… we only have a couple of weeks to sell the leases. It's a very fast-moving process."
Mr. Graiser said that most of the leases must be sold by the end of this month, though some of the stores' leases will carry over into next month. The leases that aren't sold will be turned back to the landlords' control. Since many of the inventory sales are concluding before the end of the month, there is urgency to have the leases sold.
A search through the database shows just how ubiquitous the electronics retailer once was. It had locations in prime New York City retail corridors, including Times Square, West 72nd Street and West 96th Street, to spots in Mobile, Ala., Miami, Fla., West Hartford, Conn. and East St. Louis, Ill.
Though Mr. Graiser believes that a wide-range of retailers would be interested in Radio Shack's former locations, while a mobile phone retailer would be a particularly good fit for the spaces because of "the type of location it is, with the right square footage," Mr. Graiser said.
Mr. Graiser would not disclose the asking rents, but said there is a group of stores that are below market-rate because they have been in the Radio Shack real estate portfolio for a long time.