Madison Realty Capital Loans $20M for West Harlem Condo Construction
---
---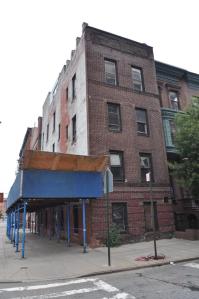 Eastern Union Funding secured a $20 million construction loan for Azimuth Development Group's 99 Morningside Avenue condominium project, Mortgage Observer has learned. Madison Realty Capital provided the two-year, interest-only loan, with an interest rate of 11.5 percent.
"Normally, paying double digit rates is very high, and most of our construction loans are sub-five percent," said Eastern Managing Directer Jeff Seidenfeld, who brokered the deal. "In this case, the final product was cheap equity. This leverage would have been impossible had we gone with a conventional bank—the client would have had to put up substantially more equity and possibly taken out a partnership." 
The loan will cover 100 percent of construction costs and 90 percent of out-of-pocket costs for the planned mixed use development in West Harlem, currently home to St. Luke Baptist Church and two other buildings. Permits for the project, which will rise over the church, were filed in September, according to a report from New York Yimby.
Demolition is expected to take place within weeks. Construction will immediately follow, with the goal of completion at the end of 2016.
Azimuth bought the 99 Morningside plot and adjacent properties at 369-371 West 123rd Street and 101-103 Morningside, according to a representative for Eastern. The adjacent parcels each cost $1.8 million; the 99 Morningside sale has not yet hit city records.
Once built, the new 11-story building will have 22 condos, and part of the second floor will house the church. While the existing church structure will be demolished, the church has already reached an agreement with the developer to be a tenant of the new project, the representative said.
"West Harlem has seen a significant resurgence in the last several years and we see this development as the tipping point of that," said Azimuth founder Guido Subotovsky in a prepared statement. "We want to bring south of 96th Street quality north of 96th street. We think our project will bring to the neighborhood the kind of quality you'd see in a downtown structure and sets a new bar moving forward."