Housing Groups Protest City Sale of $1 Bklyn Property
---
---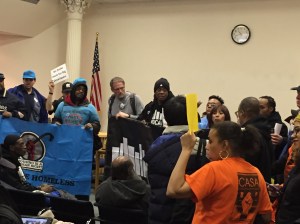 Members of housing advocacy groups met yesterday morning for a rally protesting the city's planned sale of 15 Lafayette Avenue in Brooklyn to Jonathan Rose Companies for $1.
Rose plans to develop the 120,000-square-foot lot, which stands in the center of the planned Brooklyn Cultural District in Fort Greene, into an apartment complex with 49 out of 123 units designated for affordable housing. Mayor Bill de Blasio's office plans to move forward with the sale, which was announced by Mayor Michael Bloomberg's office in October 2013.
Offering developer's incentives as a way of financing affordable housing is a tactic that's been used by the New York City government dating back to Mayor Ed Koch, Mr. de Blasio's office explained to the Commercial Observer.
The city's Department of Housing Preservation and Development which will be overseeing the deal's completion, addressed some of the confusion over the project in a release provided to CO. "Having the ability to provide land at a nominal cost for an affordable housing project helps to greatly reduce the need for direct taxpayer subsidy (i.e. city capital, federal funding, etc.) which can then be used for other affordable housing projects," the statement said. "It's essential to the creation of affordable housing and to stretching our other subsidies." In late 2014, a  25,204-square-foot lot on the far west side of 53rd Street valued at $110.6 million was set to be sold by the city to Clinton Housing Development Corporation for $1, but the transaction is not complete.
The space is the site of a planned affordable housing unit from Clinton Housing and a combined market rate/affordable housing development from Taconic Investment Partners and Ritterman Capital.
Jonathan Rose Companies was selected by the city to develop the Fort Greene space which had been acquired by the city through an in-rem (seized) tax foreclosure. Their proposal, Brooklyn Cultural Districts: Apartments, included plans for rental residential units, a 2,700-square-foot restaurant and a possible cultural center.
Before the contract hearing, overseen by the mayor's Office of  Contract Services and held this week at the Department of City Planning's offices, around 30 advocates filled the lobby brandishing signs reading "No Dollar Deals for Big Developers" and "Build Housing for the Homeless" while Vocal NY executive director Jennifer Flynn led members of the grassroots community action group in chants against the deal. The effort was organized by Vocal New York and by the housing coalition Real Affordability for All.
The hearing saw testimony from several advocates. The chairperson of Vocal, Wanda Hernandez, read a statement that referenced an increase in homelessness during Mayor de Blasio's tenure and suggested that homeless be moved into 15 Lafayette.
During her testimony, Vocal member and community organizer Elizabeth Owens offered: "I have $1 right here to buy a building. Let the mayor know!"
"We're talking about affordable housing, affordable housing and there's not anything said for housing for the homeless," said Reginald Brown, a former shelter resident currently living in supportive housing, of the sale. "If we're going to give them that land and give them tax breaks then they need to make sure that they provide housing for low-income people and the homeless people. We're giving them something then they need to give us something back."
"He's giving away land for $1, why can't that land be given to not for profit? We know what to do with that land. We could put a dent in this homelessness right now," said Marcus Moore, a member of the Bronx homeless rights organization Picture the Homeless. "We know what's going to happen once he gives away this land to FOR-profit developers: more luxury apartments, more false promises. In this city of poor and rich, we're going to see the amount of new faces that are going to be out here homeless."
The subsequent contract hearing was attended largely by homeless advocates and saw testimony from members of those groups and Fort Greene residents about their opposition to the deal. This was the last public hearing on the 15 Lafayette Avenue matter and will allow HPD to close the financing for the project and transfer the property.