Greystone Pays $17M for Majority Stake in 130 Seventh Avenue South
---
---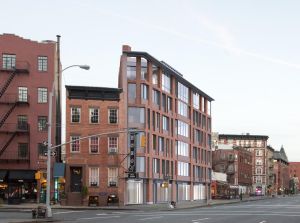 Less than a year after Continental Ventures and Itzhaki Acquisitions shepherded their Greenwich Village Historic District mixed-use project through a successful Landmarks Preservation Commission review, they have brought in another partner. Greystone Property Development has paid $17 million for a majority interest in the property at 130 Seventh Avenue South at the corner of West 10th Street.
"We developed it to this point in time," said Jane Gol, the president of Continental Ventures, declining to state the percentage of the stake that was purchased. "We have a relationship with Greystone."
The deal was sealed on Jan. 22 and was recorded with the city yesterday, property records show. A spokeswoman for Greystone would only confirm the firm was now part of the joint venture.
"We took it through the landmarks process," Ms. Gol said. "We were approved on April 8, 2014 for the design. We worked with BKSK Architects to make sure the site lends itself to the neighborhood and fits in contextually with the neighborhood and adds a contemporary design."
Plans call for a red brick building with five residences over 6.5 floors. The two penthouse units will have outdoor space, and one of those units will include a jacuzzi, Ms. Gol said. Every unit in the building will have storage in the basement. There will also be about 2,000 square feet of high-end retail on the ground floor, as Commercial Observer previously reported. Construction is slated to start "imminently," Ms. Gol said, and be completed between 18 months and two years.
Continental and Itzhaki, then named Keystone Group, paid $6.2 million for the site in December 2012.