Forest Ranger: MaryAnne Gilmartin on Her 20-Year Career at Forest City Ratner
---
---
In April 2013, MaryAnne Gilmartin was named Bruce Ratner's successor as president and chief executive officer of Forest City Ratner Companies, the development firm behind the Barclays Center and the greater Pacific Park project, MetroTech and 8 Spruce Street. With this "passing of the baton," Ms. Gilmartin was suddenly the face of the firm, responsible for the company's continued success and growth. Now almost two years into her tenure, Ms. Gilmartin sat down with Commercial Observer to discuss the Barclays Center's role in anchoring its Brooklyn neighborhood, the improbability of the company landing the New York Times Building project and her adeptness at balancing her top-brass role while raising a family.
Commercial Observer: Do you think the Barclays Center has realized its potential? 
MG: I do. For us, Barclays was always the cornerstone of something much bigger, which is Atlantic Yards, now Pacific Park. We wanted to launch something more ambitious than just an arena. But as a freestanding single asset, it has certainly exceeded expectations. It's been the number one performing arena in the country and number two in the world, just in terms of ticket sales. And it's an architectural gem … Of course, it's not yet stabilized financially. If you were to look at the numbers and research it, you would learn it's still a work in progress. It takes awhile to get an asset like that to its stabilized, operating income.
Frank Gehry's design for the original Barclays Center was pretty striking. How do you think that the SHoP design that was ultimately chosen benefits the stadium and the surrounding community? 
I would say that [the original plan] was a design that was pre-recession, where everything was going to get built simultaneously. And when the recession hit, we realized there was just no way we could do that. We had to peel away the buildings and do one building at a time. This was impossible given the way the master plan was conceived. So we had to, we like to say, "Inhale the arena." The arena had to become a tighter, more independent structure and we had to redesign all the foundations around it.
Frank's buildings were conceived of with all the buildings around it, it was a composition from day one; whereas the SHoP design was able to live on its own and be a huge statement on its own. I think it was a building borne of necessity.
The necessity of the recession? 
Yes, and the idea that we had to right-size it. We scaled it back in terms of its cost. We scaled it back in terms of its revenue projections. We made certain critical decisions in the rethinking of [the originally designed] arena that responded to the fact that there was a new world order.
Having built the arena after [Giants Stadium], Yankee Stadium and Citi Field, we were able to learn a lot from things that were done. The price points. The marketing. And we realized we could deliver a product that also offered a more attractive price point for what companies were looking for. The fact is, the days of a $250,000 suite, and only that, seem to be days gone by. Those days are not going to come back again.
Why was the rebranding of Atlantic Yards to Pacific Park necessary? 
Atlantic Yards was always a working title. But it went on for a decade because it had the longest beginning of any project in New York's history. I don't think anyone wants to live on a railyard [but] as we built the arena we thought about people making this place their home, it seemed that Atlantic Yards wasn't the best name for it.
It also had a 10-year history that was tired and in need of refreshing. We had a new partner. We had equity lined up to build expeditiously. And so with 35 lawsuits, the recession and other challenges that the project went through, an early renaming would have just gotten stale and seemed like a false start. So we were deliberate about making sure when it was renamed. This is marketing 101.
Sheldon Silver helped push through the Atlantic Yards proposal in 2006 and helped obtain tax breaks for the project. How do you think his indictment will impact your work at Forest City Ratner? 
I don't think [his absence] will at all. I don't see any relationship to [our work]. We also built 8 Spruce Street, which is in Shelly's district. There is a school in the base [of the building]. At that particular project, which identified a need for a school, [Mr. Silver] was tirelessly committed to getting the school for the people in the area. I worked with his office. His role on Atlantic Yards was part of the PACB [Public Authorities Control Board], which was a requirement of the project, that it get that approval. I wasn't personally running the project at the time, but I stand by the integrity of our company.
Through Atlantic Yards, we had almost a revolving door at the state level. We had three governors, changing heads at the agencies and we've had two administrations [here in New York]. This kind of change is something we're accustomed to.
What was becoming Forest City Ratner's president and chief executive officer like? 
I've been here 20 years, and I had about a two-year ramp up to the passing of the baton [to becoming president and chief executive officer]. So Bruce [Ratner] and I had this transition period where I was doing a lot of the day-to-day managing the company, but it wasn't official. And I can confess to you that the actual passing of the baton, even if the work is more or less the same, is a dramatic moment. Suddenly, it's decreed and suddenly people look at you differently and my peers were no longer my peers. If you said to me, what are among the most challenging moments of your career here, taking Bruce Ratner's job [and] the role that Bruce played here [would be among them].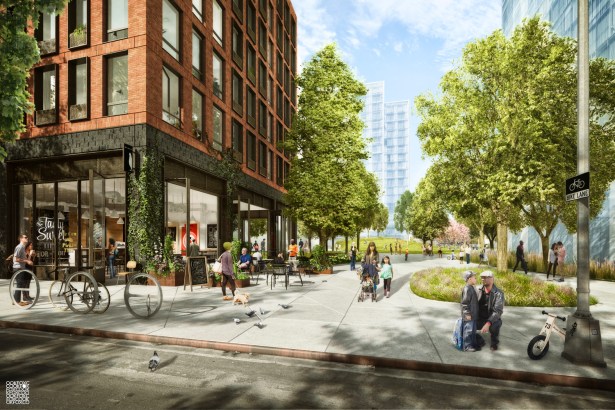 What is your relationship like with Mr. Ratner? 
I think that we're really partners in the way that you need to be to run a company like this. We definitely finish each other's sentences. Our first love is office development, so we came from the same place of loving deals and loving office development. We learned both the retail and the residential along the way. I think the fact that he's a developer and I'm a developer means that we're kindred spirits from the onset. But we're very different people too. We have both profound respect for each other. We can fight and we can make up. We can invent and cause trouble in the sense that nothing is too big or too crazy to think. When you can hang out with somebody and do that kind of mind-bending, problem-solving, invention, creation, reinvention, innovation, that's a great partnership.
What was the significance of the New York Times Building for the company? 
For me, it was my breakout project. It was the project that nobody believed we could land. It was my absolute conviction that we could win and against all odds, we did. I was naive enough to think that it was possible and was willing to work hard to try to make it so. We were the outer borough developer. We didn't have Park Avenue trophy assets to point to. But we had built this amazing project on 42nd Street. So on the merits, I felt that we had checked every box.
And certainly you had the brand recognition. 
We had the brand recognition. But people definitely didn't see us as an elite contender. For the company, it became a new era of building architecturally significant buildings and proving that good architecture can pay. It didn't have to cost more, create problems and end up producing more agita than it did value. I think that became a formula for us. Then [we] replicated that model through the Gehry Tower and through Barclays. A lot of great architects fear developers. Architects of that caliber often find sponsors, patrons or institutions to build buildings with, because developers "don't understand" the higher plane that the architects work on. And I think that we proved that developers and great architects can work together and produce great value.
What did you think once the design became a jungle gym for urban thrill seekers? 
Now that it's been addressed, I can tell you that we used to laugh that the project had a consultant for everything. There was no issue that was too small for us to study. And to be honest with you, we never thought about the jungle gym. Regarding terrorism, we were across from the Port Authority, post-9/11 on top of a subway. You can imagine the kind of briefings we needed to have with the government. We had reached far and wide and had done so much work on so many different things. Pigeons; there's a curtain wall that has places for pigeons to perch. We had a study done how to prevent pigeons from perching on the openings that became the windows. We would have absolutely studied the jungle gym problem, and it is so obvious in retrospect, but we with the New York Times never thought about it. And [afterwards] I could not walk by that building and not see those pieces of wall that drop down, and help but say, "This is obviously a ladder." It proves you can still learn things. We had some of the greatest minds in the room and we missed it.
The Daily News reported that you grew up in poverty in the Rockaways. Would you have characterized it like that? 
Poverty is a strong word. It was more about not necessarily knowing where the next paycheck was coming from, living with uncertainty about financial stability, having a lot of change and a lot of shifting ground. Yes, my mother definitely struggled and we had a lot of financial uncertainty. So is that poverty? We didn't live on the street. We always had a roof over our head. Life was hard, but I think poverty is not a word I would use.
You ultimately ended up leaving the Rockaways. How was it for you emotionally when Superstorm Sandy hit? 
My real father is still in Rockaway, and I did not know my father growing up. I only had a couple of experiences meeting him throughout my adult life. But I did go to Rockaway and, kind of, rescue my father from [the area] during Hurricane Sandy. I knew where he lived and he needed help, so I brought him to Brooklyn. [My immediate family] were basically forced out of Scarsdale because there was no electricity there either. So we ended up in a hotel in Brooklyn and I brought my father to the same hotel and introduced him to my family. I set a couple of ground rules and spent almost a week in the same hotel with my real father after not seeing him for decades. So Hurricane Sandy for me is always going to be remembered as the time when my children met the grandfather they don't know, and I was trying to figure out how someone like that lives so close, yet still so far.
Has that experience changed your relationship with him at all? 
I would say in a temporary way. For a little bit of time. People go back to being who they are. I'm 50. If it hasn't happened over the course of 50 years, it's probably not going to happen.
You went to a Catholic high school and Catholic college. Are you involved in the Catholic Church at all? 
Because my mom is divorced, the Catholic Church for her has always been a complicated thing. She got remarried and had [my two] brothers. We went to Catholic school because the public school was under construction and it was easier for my mother to register us in Catholic school. So, I would say Catholic school was not a place that we went because there was a strong conviction. It was actually convenience and circumstantial. But I can say that I found a lot of comfort and mentors in the Catholic school environment. It was a small school and I was able to find my way and excel. And I went to Fordham in large part because they gave me the most attractive scholarship package and it was very utilitarian for me. But in retrospect, the Jesuit school education was actually good for me.
| | |
| --- | --- |
| "Our first love is office development. We learned the retail and residential along the way." | |
You have young kids, and I know that your husband stays at home with them. What do you think of the ongoing "Lean In" debate? 
I don't think I ever got the memo that said I wasn't supposed to have a place at the table. For whatever reason, I believed I had a rightful place in the ranks and I was blessed with an ability to not really focus on the fact that I was the only woman in the room or the youngest woman in the room, or that people were looking at me differently because I was a woman.
I [also] managed to help be part of populating this place with men and woman. We have extraordinary numbers here. Sixty percent of the developers here are women. And that's in large part because there's modeling. I had three kids and again, it's a meritocracy. I said to Bruce, "I'm living in Scarsdale." Thursday night I felt like I just wanted to fall off a cliff. And on Fridays, I used to work out of Westchester. Most people outside the company never knew because they didn't need to. And internally, people knew that if there was a Friday meeting and I needed to physically be here, they would have to come and ask me. Bruce supported it. Productivity-wise, it was not an issue. And Bruce was willing to let me invent a construct inside the office that not only became empowering for me so that I could feel, first and foremost, that I was successful at home, because if I wasn't successful at home I would be useless in the office. If I didn't feel like I was a good mother, I would be useless as a professional. I know that about myself. And so, [Bruce] was smart enough to say, "Let her figure it out. And if she figures it out and she continues to perform and produce, then we all win." And then I produced a model, accidentally, that other women looked at and said, "Gee, she managed to have three kids, a husband, a successful career, she seems well put-together and she doesn't seem like she's going to lose her mind, so maybe I can do that too."
Is that something that a lot of people at Forest City take advantage of? 
I think that those that need it, get it, and they get it because with technology, it's a non-issue. When people need to be here and show up, they do. And you know, I always say I do my best work after 11 p.m. anyway.
My oldest is 17 already. He's a junior. My youngest is 11. I think my boys are growing up believing that, man or woman, you set your home life up in a way that's the best for what you want. I would say for Tess, my youngest, I would love it if she marries, that they look at their life and say, "How do we best set this up?" And it's not because she's a woman that she stays home. But I also want to say that if she should choose to stay home, hallelujah. Whatever works.