Five Things That Will Have New Yorkers Sailing to SI Next Year
---
---
Informally nicknamed "the forgotten borough," it sometimes feels like Staten Island doesn't get the respect it deserves. We don't know whether it's the fact that it's mainly accessible by ferry, the fact that we find it hard to forget the odors of Fresh Kills Landfill (even though there's been an effort to reclaim the landfill and turn it into a park that started in 2008) or what, but for some reason the borough of Richmond doesn't excite developers—or Manhattan dwellers—the way that, say, Kings County does.
But, hopefully, that's all about to change. Staten Island is breaking ground on several major projects that seek to put the island on the map with attractions that will appeal to locals and tourists alike. Amidst the projects big and small, here are the top five things we're most excited about:
1. Ferris wheels are cool … and Staten Island is going all out for theirs.
At 60 stories high, the New York Wheel promises to be the biggest Ferris wheel in the world—a good 50 percent bigger than the behemoth London Eye across the pond (both wheels share the same designer, Starneth).
The Wheel's 38-minute-long go-round is the centerpiece of what will be a swath of green space designed by M. Paul Friedberg & Partners, consisting of a 25,000-square-foot playground and a six-acre green roof that will sit atop the main parking lot, to be used mainly for music events.
Staten Island Borough President Jimmy Oddo said there was talk of a New Year's Eve opening ceremony to usher in 2017. While a representative for the New York Wheel declined to comment, a source close to the project told Commercial Observer that that timeline seems "a bit aggressive." For now, an invite-only groundbreaking ceremony is scheduled for March 10.
Once it's up and running, the Wheel will be able to hold 1,440 people per ride, totaling 30,000 visitors per day and over an expected 4 million visitors annually, according to the website. (The source who spoke with CO said that four major studies were conducted to come to this projection.) Mr. Oddo said the tickets are likely to cost around $25 a pop, and there's apparently been discussion of providing discounted rates to Staten Islanders, à la Disney World.
The Wheel team is building onto current parking lots owned by the Economic Development Corporation to accommodate visitors coming by car, but the expectation is for most people to siphon in from Manhattan and the other boroughs on the weekends. On the weekdays, the 2.5 million tourists who take the Staten Island Ferry "will be the bread and butter" of the wheel, according to our source. A team of employees for the Wheel is slated to go on a world tour to promote not only the Wheel, but Staten Island in general as a go-to destination.
The $230 million Wheel, which is designed by Perkins Eastman and S9, a Perkins Eastman affiliate, and is being financed by multiple parties, including real estate developer Lloyd Goldman, The Feil Organization, and real estate investor Joseph Nakash, according to the Staten Island Advance. The Wheel has also seen $150 million in investments from 300 Chinese citizens, thanks to the EB-5 immigrant investor program, which grants temporary visas to foreigners who invest in the U.S.
Locals will see some of that money come back to the tune of $50,000 a year for 10 years; proceeds from the Wheel will go to the North Shore Foundation, which has yet to be set up.
The new attraction is expected to create about 350 construction jobs and 600 permanent positions, according to the Wheel's website. The website also says the team is working to make the ride LEED-certified, but it remains to be seen if that is still doable.
Mr. Oddo said that the Wheel team and BFC Partners are working together to create a dock for a potential "fast ferry" at St. George.
The ride will be open seven days a week, year-round, with exceptions for severe weather, so visitors can get a bird's-eye view of the city in every season.
2. The Hudson is the perfect place to go swimming.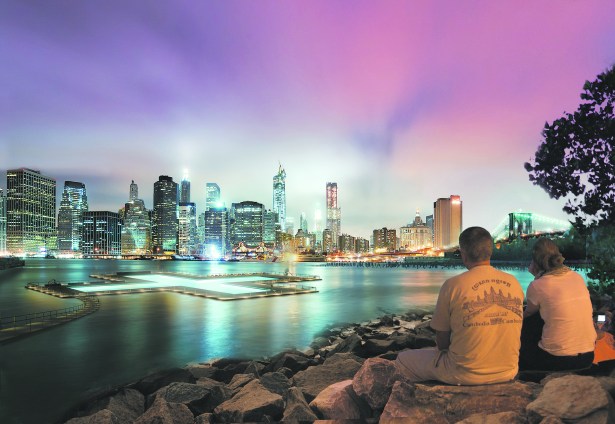 Early last year, testing had commenced on a new design for a swimming pool for those hot summer days in the city. +POOL, a floating river pool with walls that act as a multi-layered filtration system will bring near Olympic-sized relief on the Hudson River.
The test version of the pool, called Float Lab, took place on the Hudson's Pier 40 with the assistance of naval architecture firm Persak & Wurmfield, which was meant to help pinpoint data on things like seasonal filtration. With testing complete, +POOL is now looking throughout the boroughs for a home—and Staten Island is on the list, a spokeswoman for the company confirmed.
As CO previously reported, the 9,000-square-foot, estimated $15 million + POOL is expected to open in the summer of 2016, and Mr. Oddo said he's rallying to bring it to Staten Island. The pool, which is shaped like a plus sign, has four sections: one for swimming laps, one for lounging, one for sports and one for children. The pool would filter more than 500,000 gallons of river water per day.
A spokesperson for +POOL said the group is still looking for a location, but declined to specify what areas of Staten Island are being considered. She added that a decision date is undetermined.
The project, which was conceived by Archie Lee Coates IV and Jeffrey Franklin of art and design company PlayLab and collaborator Dong-Ping Wong of architecture firm Family, was crowdfunded through Kickstarter, raising over $273,000 from more than 3,000 backers. Separate from the Kickstarter campaign, +POOL will engrave the names of donors who give over $25 on the pool's tiles.
3. All the world's a stage—including Arthur Kill Prison.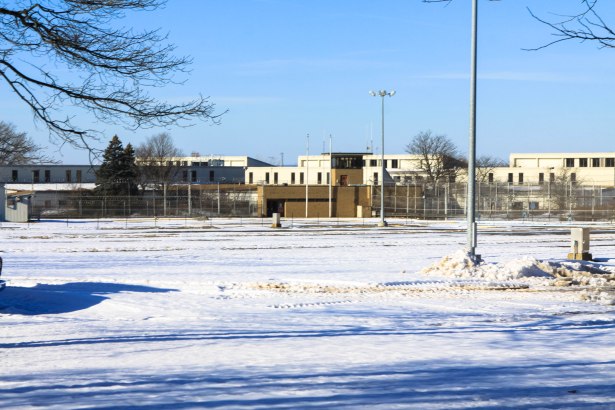 Not all the action is on the North Shore. Staten Island's west coast is welcoming one of New York's largest full-service film, television and music producers, Broadway Stages, is coming to Staten Island in the near future (a spokesman for the company declined to specify a date.)
Broadway Stages purchased the Arthur Kill Prison, a 69-acre space located at 2911 Arthur Kill Road in the Charleston area, in February of last year after winning a bid from the state. In addition to the $7 million purchase, the company will put $20 million into building five new sound stages and 100,000 square feet of studio space.
Staten Island Sen. Andrew Lanza introduced Broadway Stages' co-presidents, brother-and-sister team Tony and Gina Argento to the property; they responded to an RFP put out by the state's Empire State Development, which was responsible for the prison's sale, according to a spokesman for the senator's office.
The company already has locations in Queens' Long Island City and Brooklyn's Greenpoint. The Staten Island location is expected to create up to 1,500 high-paying jobs in the long term, according to a statement issued by the Cuomo Administration.
The company caters to big names like HBO and Universal Studios, working on shows such as Blue Bloods and The Good Wife. They'll keep some of the prison's cell blocks and infirmary intact to meet demands for productions requiring such sets, Mr. Oddo said.
"I toured their facility in Brooklyn, and it's amazing," said Mr. Oddo, who added that the company will bring a lot of union jobs.
Mr. Oddo said an ecosystem of services, like lunch spots, will build around the complex to service the influx of workers—and hinted that Brooklyn Brewery may be among the first arrivals. A spokesman for Brooklyn Brewery declined to comment, but last December the brewery's COO told Staten Island Advance that the west shore was the company's leading choice for the location of a new distribution facility. The land's owner, the Staten Island Marine Development, must complete an environmental review before Brooklyn Brewery can move in.
"[Broadway Stages] will become the anchor of what we are calling 'the jobs coast,'" said Mr. Oddo.
4. Staten Islanders (like the rest of us) love their malls.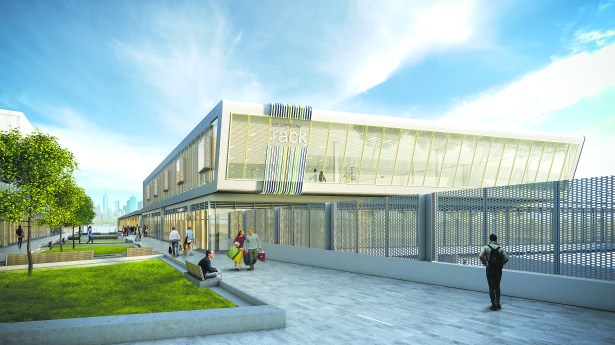 Both locals and tourists would normally have to head to Westchester or New Jersey to take advantage of outlet pricing, but soon both will be able to spend a day shopping for deals at New York City's first outlet shopping center, Empire Outlets, a massive open-air mall being developed by BFC Partners.
The 1-million-square-foot waterfront development, which is scheduled to be completed on Black Friday in 2016, will consist of 350,000 square feet of retail space that can accommodate up to 100 retailers.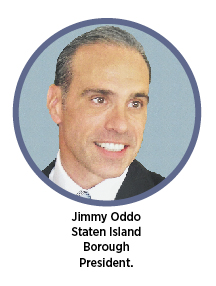 Last July, Nordstrom announced it would open a 34,000-square-foot Nordstrom Rack at Empire Outlets.
A spokeswoman for Empire Outlets declined to comment on what retailers have leased space, but provided a statement from BFC's principal, Joseph Ferrara: "We have received a significant amount of interest from retailers across the globe and look forward to major leasing announcements at the [March 10 groundbreaking] event."
Hungry shoppers can take in views of the Manhattan skyline at the 40,000-square-foot food and beverage deck, and visitors looking to stay the night can check into the 190-room, 130,000-square-foot hotel. Other features of the complex include a sustainable green roof atop the retail complex (though not available to the public), and a 20,000-square-foot banquet facility.
The $260 million project, which will be mere steps from the ferry terminal, was originally an underused municipal parking lot that will be transformed by SHoP Architects' designs.
Those traveling by car can park in the 1,250-space parking garage located beneath the retail space and hotel.
"The outlets will help draw tourists with the intent to spend money, and not just at the outlets," Mr. Oddo said. "[The attraction] will get them to come inland and see our culture and spend the day on Staten Island."
5. A good $200 million goes a long way when the waterfront isn't Dumbo or Battery Park City.
Last April, Triangle Equities signed the lease on three acres of what would become Lighthouse Point, a $200 million mixed-use project in the St. George neighborhood. The plan, which won a bid proposed by the Economic Development Corporation in 2006, brings together old and new, and includes the restoration of four historic buildings aside newly constructed residential, office and retail buildings.
What Mr. Oddo described as "the funkiest waterfront community in the city," the 12-story, 94,000-square-foot residential tower will have close to 120 units, ranging from studios to two-bedrooms—20 percent of which will be affordable. The apartments will rest amidst 85,000 square feet of retail, restaurant and entertainment areas.
The 485,000-square-foot development will also include what Triangle Equities describes as a "charming, old-world" merchant market village that will have 60,000 square feet of restaurants, as well as specialty shops, such as green markets, bike shops and wine and cheese shops. Botsaris Realty Group was tapped to lease the retail space.
A 200-room upscale hotel, which will be attached to the merchant area, will boast a private rooftop beach lounge. Elysa Goldman, Triangle Equities' director of development, said that Triangle Equities is currently negotiating with hotel operators to see who will run it.
Getting to and from Lighthouse Point won't be a problem, Ms. Goldman said. "Not only are we adjacent to the ferry terminal, we also have Staten Island rapid transit that goes to ferry terminal, as well as all the buses."
All the buildings are being designed by design firm Cooper Gary and Garrison Architects.
One-third of the development will be outdoor space that includes 15,000 square feet of green roofs atop the residential and retail buildings, a restored pier and a 500-foot esplanade that will host everything from concerts to exhibitions.
Triangle Equities is also constructing an amphitheater space for exhibitions, as well as a banquet hall. M. Paul Friedberg & Partners is the landscape architect.
"Right now we are completing our design and putting together our construction and financing teams," said Ms. Goldman, who added that they hope to begin construction in the early fall.
"We are also continuing our retail leasing efforts, and have been working closely with the city on the activation of the waterfront and esplanade," Ms. Goldman said. She added that they likely will not market the residential units until a month before it opens.
A spokeswoman for Triangle Equities said the retail and residential portions, as well as the activation of the pier, will open in 2017; the hotel and historic buildings will be completed by summer of 2019, and the esplanade is already open to the public.
"This is going to be a huge amenity for the local community," Ms. Goldman said.