Dollars Spent on Investment Properties Climbs 22 Percent in 2014
---
---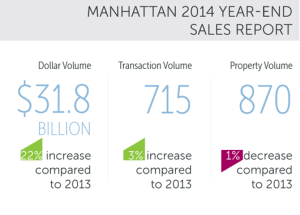 The amount of money spent on Manhattan investment properties rose 22 percent last year from 2013, thanks to the steady demand for office space and some big-number deals in Midtown, according to Ariel Property Advisors' year-end sales report released today.
The borough saw $31.8 million in investment property sales in 2014, a figure that can largely be attributed to the very same factors that drove growth in 2013, said Howard Raber, a vice president of Ariel Property Advisors, in prepared remarks. The transaction volume saw a much smaller 3 percent increase to 715 properties while the number of properties decreased 1 percent to 870.
"[This year] there was an active institutional investor market focused on large office transactions and a substantial increase in the sale of development sites," Mr. Raber said. "Such activity demonstrates investors' confidence in Manhattan's economic prospects, mainly the city's business climate and its future residential condominium market."
The record-breaking rent and increased demand for residential condominium units in 2013 edged Manhattan's average price per buildable square foot to as high as $1,000.
Already in 2013 those figures were coming into view, with the $50.24 million purchase of 17 East 12th Street by Peter Armstrong's Rigby Real Estate Fund II, a price amounting to $1,034 per buildable square foot, as previously reported by Commercial Observer.
Office property sales dominated 2014, with such transactions constituting $10.5 billion, or 33 percent, of the aggregate total dollar volume for the year, a figure that includes the sale of 5 Times Square, which real estate investor David Werner bought from AVR Realty for $1.6 billion—the biggest deal for an entire building since 2010, according to Bloomberg News.
Development site sales in Manhattan hit $5.97 billion, a 13 percent increase over 2013, and a 73 percent increase from 2012.
Aside from larger trades that made headlines, like 1-6 World Trade Center, smaller buildings priced at unprecedented levels. Retail condominiums at 697 Fifth Avenue between East 54th and 55th Streets and 2 East 55th Street at the corner of Fifth Avenue, each went for $29,396 per square foot, and 90 Prince Street between Mercer Street and Broadway which sold for $17,968 per square foot.
Multifamily properties, which comprised 38 percent of transactions, saw a decline in demand last year, but an 18 percent dollar volume increase to $6.53 billion came because of an average price per square foot uptick to $866 from $690 in 2013.
"Premiums are being paid by investors looking to convert existing multifamily rental buildings to condominiums," said Jesse Deutch, an associate vice president of Ariel Property Advisors, in the report.