Chang Sells Two Midtown Lots to Japanese Company for $19.6M [Updated]
---
---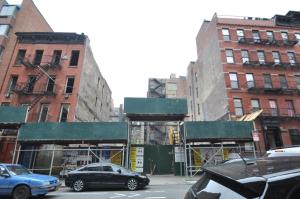 Sam Chang's McSam Hotel Group has sold two adjacent vacant lots in Midtown West for $19.6 million, Commercial Observer has learned. The deal closed last Thursday.
Publicly-traded Japan-based company Kobe Bussan has purchased 439-443 West 54th Street between Ninth and 10th Avenues from McSam, a source with knowledge of the deal said. 
"The lots are currently vacant and demolition is nearly complete," according to the Cushman & Wakefield listing. "There are [Department of Buildings]-approved plans for the construction of a 101-room hotel, allowing for a gross square footage of 31,648." The asking price was $19.5 million.
Kobe Bussan, which franchises hundreds of wholesale supermarkets in Japan, intends to erect a seven-story hotel with a restaurant, the source said, marking the company's first project in the U.S.
"They also just opened up their first restaurant in the U.S. at 3 West 36th Street—Shabu Shabu Kobe—six months ago," said Michael Segerman, a managing director at Pink Stone Realty. "Now they plan on opening their first hotel/restaurant in the U.S. at the new site. It is a very exciting time for them as they enter the U.S. market for the first time."
Mr. Chang, who purchased the site for $10.5 million in July 2012, was represented by Clint Olsen and Christoffer Brodhead of C&W in the deal. Michele Guerrero of Pink Stone Realty represented the buyer along with colleague Teni Kalafian.
"It's just a small project," Mr. Chang said explaining why he sold the site. "We try to sell small projects and focus on the big ones."
Mr. Olsen said in prepared remarks: "This was another example of a new, overseas buyer, ambitiously bidding for New York City assets.
Update: This story was edited to include a comment from a broker for the seller.