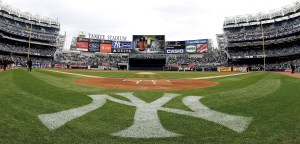 "Upgrading NYC" is a series sponsored by AT&T in which we interview owners of and tenants in Manhattan commercial buildings that have recently upgraded their wireless connectivity. This week we look at Yankee Stadium.
When the New York Yankees moved into its new stadium in 2009, the $2.3 billion venue featured more retail space and wider concourses than the team's previous home. It also had substantial new telecommunications features, with 227 miles of ethernet cable and more than 1,000 video monitors.
AT&T manages the stadium's network infrastructure, which includes ticketing, security cameras and wireless connections. The building offers WiFi, but only for its employees, the media and luxury suites.
Even so, the stadium's massive crowd—the building seats more than 50,000 fans—doesn't want for a smartphone signal, thanks to a cleverly distributed antennae system. AT&T installed a network of antennas that are placed at intervals throughout the stadium, which divides the venue into more manageable slices. These antennas connect through cables to allow access to the main network, which supports all major phone carriers.
The system is ideal for both tall buildings and large venues with a dense amount of users, such as airports, conference centers and stadiums, according to AT&T. Users can connect to both the antenna system and the overall "macro" network seamlessly.
Having adequate phone coverage has become increasingly important for sports venues in the age of social media. Fans seek to record their experiences through images and video and share them online instantly. That trend has been reflected in increased data usage.
The last home game of the 2014 season at Yankee Stadium drew worldwide attention, as longtime captain Derek Jeter prepared to retire. Fans in attendance used more than 381 gigabits of data, or 118 percent more data than that season's opening day, according to AT&T.
On average, visitors at the stadium used 122 gigabits of data each game day in 2014. In home games against intense rivals such as the Boston Red Sox, mobile data usage generally rose: for instance, fans used 159 gigabits per game during an April 2014 series against Boston.
AT&T has a presence in more than 75 percent of U.S. sporting venues that host the four major professional sports: football, baseball, basketball and hockey. The company plans to add more than 1,000 distributed antenna systems in those stadiums by the end of 2015, along with 10,000 macro cell sites, and more than 40,000 small cells.