Ismael Leyva is the Adapter
---
---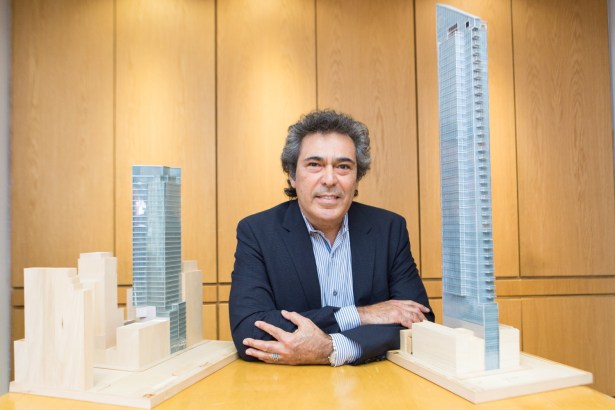 It took several years for the Hell's Kitchen apartment building called the Icon to realize its potential. As Ismael Leyva Architects was putting the finishing touches on the sliver of glass structure that juts 43 stories from an oddly shaped lot at 785 Eighth Avenue in 2008, the financial crisis stalled the West 48th Street project. The 122-unit building's original developers would later file for bankruptcy. Meanwhile, the structure's distinctive shape and shaky finances became an object of scorn on real estate blogs.
These days, however, Toronto-based First Dominion Developments has repurposed the building as a high-end rental property. The brokers from Town Residential in charge of marketing it rave about the $80-per-square foot rent it commands. And Mr. Leyva (pronounced LAY-va) told Commercial Observer that the Icon is one of his favorite completed projects.
The native of Veracruz, Mexico, has shown skill at adapting throughout his career. Projects with high-profile clients like the Related Companies and big-time design partners like Skidmore, Owings & Merrill, also known as SOM, have made him a mainstay in New York City's luxury residential market. But the 63-year-old father of four expressed a desire to branch out during a recent hour-long interview with CO in his firm's Garment District headquarters. Citing projects ranging from the nearly-complete Marmara Park Avenue hotel in NoMad to natural disaster protection studies for the New York City Housing Authority and a pair of mixed-use towers in San José, Costa Rica, that are the two tallest buildings in that country, the prolific architect said his team is eager to take on a wide range of work.
"As architects, we are trying to design any kind of building," he said, meaning not just residential. "Unfortunately, especially in this country, you are sort of labeled that, if you do something well, that's the only thing you can do."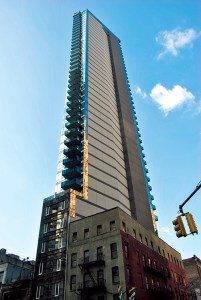 But Mr. Leyva can do a great deal. The designer and planner started Ismael Leyva Architects (ILA) in 1996 after a stint working for Costas Kondylis, and his company has completed 70 buildings, 55 of which are in the tri-state area. Mr. Leyva lives in an apartment at one of the completed properties—Place 57 on East 57th Street. The firm, which has an additional office in Costa Rica and 125 employees, currently has six buildings under construction, 10 others in the design stage and 12 scheduled to start construction in a few months. ILA follows its  founder's example, said the company's principal, Manish Chadha, who has worked with Mr. Leyva for 15 years.
"He's very driven; he's very motivated," Mr. Chadha said. "The same kind of passion flows through the rest of us. The firm is built around good practical design that fits in its context and meets the client's budget requirements. And probably most importantly, it's good for the end user."
But large-scale projects in New York City don't reach their ends without developers, and Related Companies, one of the city's largest, has employed Mr. Leyva on about 20 projects, according to the architect and Related's senior vice president for design, Robert Puddicombe. Mr. Leyva often shepherds Related's projects from beginning to end, while firms like SOM at the Time Warner Center, Arquitectonica at MiMA, and Robert A.M. Stern Architects at Abington House stick with conception of the overall external design, Mr. Puddicombe said.
"He and his partners are just very solid, reliable partners to us in the design process," Mr. Puddicombe said. "Ismael and his firm have always done something more than execute someone else's work—they've been the planners of our projects. His strength is that the skills that he has are compatible with a wide range of styles."
Mr. Leyva designed the residential interiors at Related's Time Warner Center off Columbus Circle, and he's currently partnering with SHoP Architects at Related's 925-unit Hunter's Point South development that will be completed later this year in Long Island City, Queens. Meanwhile, on the Far West Side of Manhattan, Mr. Leyva is teaming up with Diller Scofidio + Renfro, SOM and David Rockwell on the 70-story, 385-unit 15 Hudson Yards, and the 79-story luxury hotel and residence 35 Hudson Yards planned for delivery in 2018.
But when asked to name his proudest architectural achievement, Mr. Leyva singled out the Icon, noting that the building occupies a slim 24 feet of frontage. An available studio apartment at the property, which has an alternate address at 306 West 48th Street, rents at $3,335 per month, while a two-bedroom apartment commands $7,780 per month, according to StreetEasy.
"All my buildings are my babies but that particular one—the challenge to design and to build it was unbelievable," he said. "That was one of my favorites."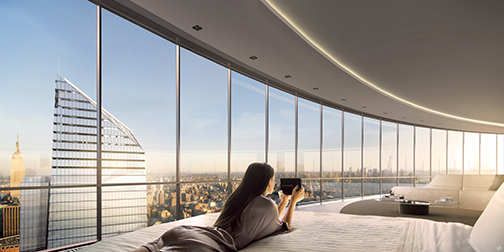 The Marmara Park Avenue at 114 East 32nd Street is another ILA project that appears to have turned the corner after years of struggles. Mr. Leyva designed the building's conversion from an office building into a condominium development called the Jasper before the financial crisis also rendered that plan unfeasible. The property would later fall into foreclosure before the Turkey-based Marmara Collection purchased it for over $54 million in 2012, according to public records.
Mr. Leyva had previously planned a 78-unit condo, but Marmara enlisted him to transform the property into a 128-unit hotel while hiring another New York designer, Joe Ginsberg, for the interiors, said Nur Ercan Magden, the general manager of the hotel. The hotel will open in April and rates at Marmara Park Avenue will start at $550 per night, company officials said.
The second phase of another of Mr. Leyva's commercial projects opened last year, albeit far south of the Midtown South submarket, in Costa Rica's capital. Mr. Leyva designed both of Costa Rican developer El Grupo Inmobiliario del Parque's residential and office towers known as the Torres Paseo Colón, and the two structures boast 232 condos and 16 floors of office space in their collective 635,000 square feet, according to ILA. The first tower, which was completed in 2012, stretched the highest of any building in the country at 318 feet before the second tower eclipsed it by a dozen feet.
"A lot of people decide to move their offices there and buy apartments," Mr. Leyva said beside a model of the building in his firm's studio. "You know they have traffic problems in San José."
Brokers and developers who work with Mr. Leyva dispute the notion that he only designs residential buildings, referencing projects abroad and closer to home. The architect has a "deep resume," said Andrew Heiberger, the co-founder and chief executive officer of the Town Residential brokerage and Buttonwood Development. Mr. Heiberger hired ILA for the development of the Greenwich Club at 88 Greenwich Street, a property that includes a 54,000-square-foot retail condo. And his brokerage is marketing apartment buildings designed by Mr. Leyva at properties like the Icon and Bluerock Real Estate's 27-story, 31-unit luxury condo development known as the Charles at 1355 First Avenue between East 72nd and East 73rd Streets.
Residents are slated to begin occupying their apartments next month, and a penthouse at the building recently traded for $38.6 million, an amount that exceeds any Mr. Heiberger has seen on First Avenue in any section of the city.
"We're over 85 percent sold," he said, noting average sales prices of $2,500 per square foot. "We've shattered records by at least 20 percent of the blended average per square foot on First Avenue."
The 13,200-square-foot penthouse that Mr. Leyva designed in the former Verizon building at 140 West Street might also shatter records. The top-floor apartment in the building where developer Ben Shaoul's Magnum Management is converting the highest 22 floors to condos could fetch a record $100 million, Crain's New York Business recently reported.
But even as Mr. Leyva's firm brings high-profile, high-end projects to the finish line, he has taken on much grittier, but equally challenging, work. For instance, he's helping the city plan for natural disasters after Superstorm Sandy devastated NYCHA buildings in the city's waterfront areas in 2012. Sandy left 402 public housing properties—home to about 79,000 residents'—without electricity, according to the agency. Mr. Leyva is part of a team studying how to protect the buildings with storm barriers.
"There's no question that the ocean is rising," Mr. Leyva said. "We have to start now."