Stat of the Week: 32.3 Percent
---
---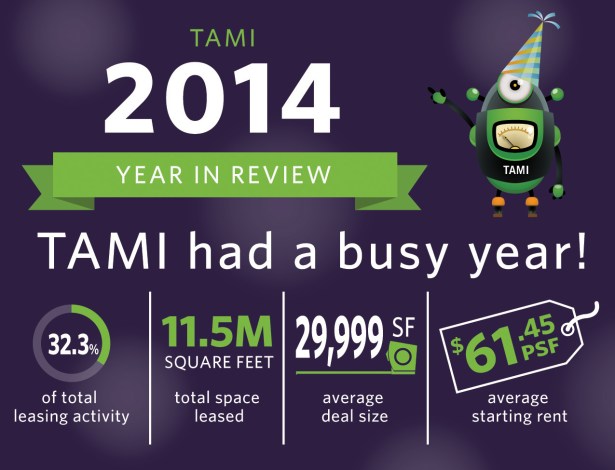 What better way to ring in the New Year than by seeing how busy the TAMI (technology, advertising, media and information services) sector was in 2014? TAMI tenants leased more than 11.5 million square feet last year, and accounted for almost 32.3 percent of the total leasing activity throughout Manhattan. TAMI went big last year, with an average deal size of 29,999 square feet—35 percent larger than the market average of 22,282 square feet. In addition, 22 out of the 49 signed leases signed greater than 100,000 square feet in 2014 were from the TAMI sector.
Most of the leasing activity was in the form of newly signed leases, as 72.2 percent of the square footage leased was from TAMI tenants moving within Manhattan. The average starting rent for TAMI tenants in 2014 was $61.45 per square foot, almost 14 percent below the overall average asking rent of $69.94 per square foot.
TAMI tenants leased the most space in Midtown in 2014, but almost 50 percent of the 5.6 million square feet was in the form of renewals. Midtown South had the largest percentage of new leases signed by the TAMI sector, with 90 percent of the 3.9 million square feet leased last year new leases. Downtown TAMI leasing activity was similar to Midtown South, as 85 percent of the TAMI leasing was in the form of new leases.
High demand from the TAMI sector coupled with a shrinking available supply caused Midtown South to have the highest average starting rent for new leases signed by TAMI tenants at $67.25 per square foot. Despite Midtown having the highest overall average asking rents of the three markets, TAMI sector tenants paid less for Midtown space, with an average starting rent of $61.96 per square foot. Downtown averaged the lowest starting rents on new TAMI leases at $48.49 per square foot.
Concessions offered throughout the market were consistent for TAMI tenants. Tenant improvement allowances averaged around $35 per square foot in Midtown and Midtown South, while Downtown landlords offered a slightly higher package worth around $42 per square foot. Meanwhile, landlords in Midtown South and Downtown offered an average of six months of free rent, while Midtown landlords offered only four months free.
Richard Persichetti is vice president of research, marketing and consulting at Cassidy Turley.