REBNY 2015 Honoree Steven Spinola
---
---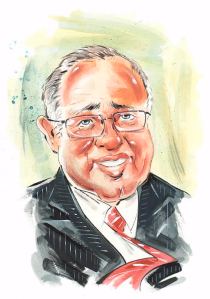 Since 1986, Steven Spinola, this year's recipient of the Harry B. Helmsley Distinguished New Yorker Award, has been the public face of the New York City real estate community. This distinction, named for real estate executive Harry B. Helmsley, is bestowed on a Real Estate Board of New York member who has achieved a "lifetime of exceptional accomplishment in the profession," as well as having heavily contributed to New York civic life.
Over the course of his nearly 30-year tenure as REBNY president, Mr. Spinola has worked alongside five New York City mayors (Ed Koch, David Dinkins, Rudy Giuliani, Michael Bloomberg and Bill de Blasio) and five New York State governors (Mario Cuomo, George Pataki, Eliot Spitzer, David Paterson and Andrew Cuomo) to ensure the trade organization's voice has been heard in the political discourse. The New York Observer and Commercial Observer have repeatedly named Mr. Spinola as one of the city's and state's most influential people. 
When Mr. Spinola began his presidency 29 years ago, REBNY had 4,000 members, with almost no residential brokers and very few residential developers. Today, the organization has ballooned to over 16,000 real estate members, including thousands of residential brokers and developers, and has dramatically increased its scope. His victories for the city's real estate community include successfully campaigning to keep city real estate taxes in check, drawing businesses to Lower Manhattan when there was 25 million square feet of empty commercial space in the area, and playing an integral role in shaping zoning laws in now-popular destinations on the Far West Side, West Chelsea and the Brooklyn waterfront.
Mr. Spinola was also heavily involved in mitigating the aftermath of high-profile city disasters. Following the terrorist attacks on the World Trade Center in September 2001, Mr. Spinola led REBNY's charge to help businesses and residential communities recover.
"The entire city was shaken," he said. "The day after [9/11], Burt Resnick [the chairman and chief executive officer of Jack Resnick & Sons] and I went down, met with the mayor to learn what we could do, and we did [a lot]."
REBNY used its clout to support tax incentives to revitalize Lower Manhattan, bringing residents and businesses back downtown.
"We provided to the governor's office a proposal for a package to incentivize residential and commercial tenants and owners to stay there, and the governor basically took that proposal and announced it," said Mr. Spinola.
Under his leadership, the organization also raised more than $12 million for the Twin Towers Fund, the charity created by Mr. Giuliani for the families of firefighters and police officers that died on 9/11. It also successfully lobbied Washington for federal terrorism insurance, which resulted in the Terrorism Risk Insurance Act passing in 2002.
After Superstorm Sandy devastated large swaths of the city, Mr. Spinola ensured REBNY played a critical part on several public committees and helped secure space for homeless office tenants. And last March, when a gas leak caused the explosion of a building near East 116th Street, Mr. Spinola ensured that REBNY secured 39 apartments to house displaced families.
Mr. Spinola says that his biggest accomplishment as president is having the city's real estate community speak in one voice.
"For nearly 30 years, REBNY has functioned as a unified industry," he said. "That's not a specific piece of legislation, but it permitted us to do so much more and the board today is totally reflected by every element of the industry."