Old New York: 32 Old Slip
---
---
1983-1987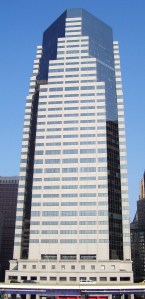 New York real estate developer HRO International wins a bid to purchase a building site at 23-43 Old Slip, originally held by the United States Assay Office—the last public gold refinery in the country. HRO agrees to purchase Financial District site for $27 million and begins demolition on an office building that had belonged to the government agency on the plot. Demolition begins in 1986 and a new office building designed by Edward Durell Stone & Associates is constructed in its place in 1987. Four sides of granite and silver-tinted glass make up the base.
1995
The Paramount Group, led by real estate veteran Albert Behler, purchases the 1.2-million-square-foot building at 32 Old Slip, also known as One Financial Square, for $135 million in 1995. The now-defunct Japanese bank Sanwa provides a $96 million loan to help fund Paramount's acquisition.
2006-2007
Insurance giant American International Group signs a 10-year, 260,000-square-foot lease at 32 Old Slip in late 2006 in one of the year's 10 largest lease deals in the city that year. AIG's lease is for seven floors of the office building, where asking rents are $49 a square foot. Not long after, Paramount sells the 36-story office building to the private Boston-based REIT Beacon Capital Partners for $751 million, in August 2007. MetLife provides a $350 million loan for the purchase.
2012-2013
Storm waters from Hurricane Sandy damage the lower floors of 32 Old Slip along with AIG's headquarters at 180 Maiden Lane and several other office buildings in lower Manhattan. Within a year, 32 Old Slip's market value declines by 21.6 percent, or $65.7 million. Beacon Capital begins a renovation effort in 2013 to add improved flood barriers, pumps and piping systems to better protect against future storms.
2014
RXR Realty agrees to purchase 32 Old Slip from Beacon Capital for $675 million in December 2014. In the past year, 150,000 square feet of new leases have been executed in the building, a source tells Commercial Observer. Tenants in the building include AIG, Daiwa Capital Markets America, Crystal & Company, the United States Census Bureau and the U.S. Department of Education.