City Takes Over Another Brooklyn Library Building [Updated]
---
---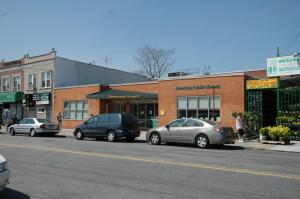 After the New York City Law Department gained authorization in Kings County Supreme Court to acquire the Gravesend Library at 303 Avenue X on April 24, the city has taken over the property, records show.
City Comptroller Scott Stringer's office will be paying an award to previous owner Joseph Zelik of an amount that pending eminent domain proceedings in court will determine, a spokeswoman for Brooklyn Public Library said.
"Gravesend Library is a popular branch and we have long planned to remain at that location," the BPL spokeswoman wrote in an email. "By purchasing the Gravesend branch, Brooklyn Public Library will be able to invest capital funds in it, bringing it to a state of good repair for the community to enjoy in perpetuity."
The acquisition represents at least the second library building grab this year for BPL, which seized the McKinley Park Library in December. BPL now owns 54 out of its 59 library buildings in the borough.
The city had been paying Mr. Zelik, the city's former landlord at the one-story building and the owner of the 9,500-square-foot lot between Stryker Street and West 1st Street in Gravesend, a monthly rent of $15,333 up until the lease expired two years ago, Mr. Zelik said.
"It's really in their best interest to take these libraries, according to what they told me," Mr. Zelik said. "If they get it for a third of the price, it's even better." The city is processing a "nominal" disbursement to him and he's hired an attorney to pursue the balance of the property's value, he added.
The property carries a market value of $1.2 million and an assessed value of $545,000, according to an assessment from May posted on the city Department of Finance website.
Update: This story was updated to include a quote from Joseph Zelik.