Snapchat Snaps Up Space at Former Times Building
---
---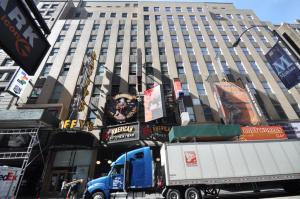 Snapchat, the preferred photo-sharing app of teens that was valued earlier this year at $10 billion, has signed a lease at 229 West 43rd Street, best known as the old New York Times building.
According to Crain's New York Business, the technology company is taking the entire top two floors, the 15th and 16th, which amounts to 27,000 square feet.
Crain's reported that asking rents were $85 per square foot.
A team from Newmark Grubb Knight Frank is the exclusive leasing agent for the 750,000 square foot property. The company declined to comment on the lease.
The Blackstone Group, which owns the top 12 floors of the property between 7th and 8th Avenues, did not immediately respond to a request for comment.
Snapchat was founded in 2011 and is based in Venice, Calif.