Go West, Young Man, Go West to ICSC NY
---
---
New York City's commercial real estate professionals are movers and shakers. And at perhaps the city's large annual retail conference, most of the attendees are involved in the moving of tenants in some capacity.
So perhaps it's fitting that this year, International Council of Shopping Centers' New York National Deal Making Conference has made some moves of its own.
ICSC moved the two-day conference to the Jacob K. Javits Convention Center from the New York Hilton hotel in Midtown.
"We made the move because Javits affords us the opportunity to be on one contiguous show floor space from an exhibition standpoint," said ICSC spokesman Jesse Tron. "We had simply outgrown the other venue as the show was showing promising growth each year."
ICSC is expecting to surpass last year's 7,600 attendees, according to Mr. Tron. There will be 484 companies exhibiting at the event which spans 161,492 square feet.
"This is an extremely important show, and it will now be in a place that can accommodate its future growth," Michael P. Kercheval, ICSC's president and chief executive officer, said in September 2013. "Each year the show continues to attract more retailers, investors, developers and others associated with the industry. It is befitting that this conference, which is all about progress and development, will now be at the center of perhaps the most exciting urban renewal project currently under way anywhere."
The New York conference is ICSC's second-largest annual event and with the move to the Far West Side, attendees will have to plan different forms of transportation to get to the annual event as well as new lunch options.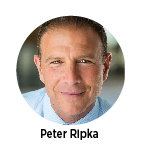 "For those of us that have been going to the New York ICSC—in mine and Ripco's case, it feels like well over a decade—change is always interesting," said Peter Ripka, a co-founder of retail brokerage Ripco Real Estate.
Daren Hornig, a managing partner at investment company Hornig Capital Partners, said his approach is to "try to figure out Javits Center as compared to the last 20 years at the Hilton."
This year's keynote speaker is real estate tycoon Donald Trump, the chairman and president of the Trump Organization (whose son-in-law, Jared Kushner, is publisher of Commercial Observer), who will kick off the two-day event with a talk at 12:30 p.m. on Monday, Dec. 8.
"Donald Trump keynote is going to be classic," said retail broker Geoff Bailey from SCG Retail.
Most real estate pros slated to attend the deal-making event are planning to scout out new opportunities.

Isaac Chera of Crown Acquisitions, a real estate investor and operator, said he would "look for new retailers [and] understand more about the new Web-based companies that are looking to open brick-and-mortar locations."
Zar Properties' David Zar said his investment firm has several projects under way "including a development site with a strong retail component and it's always good to brainstorm and strategize with the top professionals at the show."
What's the main difference between the ICSC conference in New York City and the massive one in Las Vegas?
"In New York City, I really like to work our booth, as I find that that actually a lot more owners stop by than in Vegas," said James Nelson of investment sales firm Massey Knakal Realty Services. "They're always looking for opportunities to invest in, so I come armed with flyers for my latest for properties for sale. Whereas in Vegas, you find the owners at parties or poolside, which is a lot of fun, too."
At its most obvious, the location is key to the difference between the two conventions.
"The New York City ICSC show is more business-oriented than Vegas which draws many more folks who want to enjoy the Vegas experience than the actual conference," said Eastern Consolidated investment sales broker Adelaide Polsinelli.
For Mr. Bailey it comes down to logistics and negotiation.
"The difference between New York City and Las Vegas is that for New York City I don't need to justify to my wife why I need to leave on Friday and come home Wednesday for a conference that starts on Sunday and ends on Tuesday," he said.
Mr. Zar added: "Vegas is a valid excuse to escape the kids."