Balance Sheet Lending Reaches Pre-Crisis Level
---
---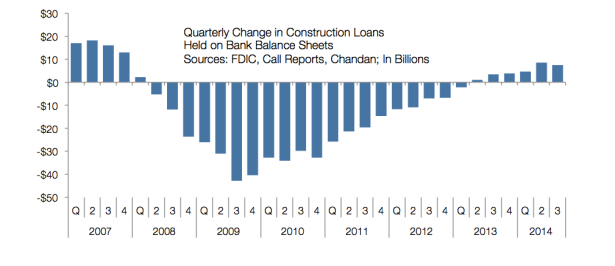 Balance sheet lending is at an all time high, almost 9 percent above its pre-crisis peak, according to a report released this week from Chandan Economics. Loans backed by commercial real estate topped $1.42 trillion in the third quarter of 2014, up more than $70 billion from the same period last year, according to Chandan's quarterly Bank Lending & Default Report.
The construction lending sector, meanwhile, was still 60 percent lower than its pre-crisis level in volume in Q3, the report says. Loans for construction totaled $230.6 million in the U.S. during the period, $24.6 million more than in Q3 2013. But despite the fact that construction loan volume rose for the sixth consecutive quarter, the sector is recovering much more slowly than balance sheet lending overall.
Default rates shrank in the third quarter, to 1.3 percent for all commercial real estate loans and 2.6 percent for construction loans. The overall default rate was the lowest since the Lehman Brothers implosion, though it is more than twice the pre-crisis low of 0.5 percent. The default rate for construction loans was down 240 basis points from the third quarter of 2013, but is still six times the pre-Lehman low of 0.4 percent.
Legacy non-performing and restructured loans continued to shrink, the report also notes. The volume of loans in default fell to $18.3 billion in Q3 2014, a significant drop from the Q3 2010 peak of $56.8 billion. Loans on REO properties fell to $6.2 billion, while that of modified loans on commercial properties fell to $17.4 billion.