Winick Broker Lights up Signs, Neighborhoods
---
---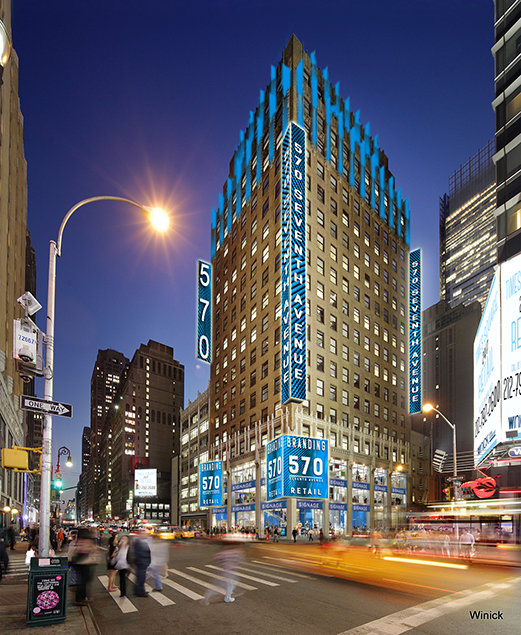 One won't find the name of Darrell Rubens of Winick Realty in the deed for NYC REIT's recent $170.3 million purchase of 570 Seventh Avenue near Times Square. But the retail broker's work on site certainly merits mention. Acting on behalf of the previous owners—Carlyle Investment Management and Capstone Equities—Mr. Rubens worked with lighting designers at Sensory Interactive to implement a roughly $10 million LED system with 3,800 square feet of digital signage and 3,600 square feet of static signage. And the building changed hands on Nov. 5 for $87.3 million more than the landlords purchased it for last year, property records show.
The only catch for Mr. Rubens is that the new ownership hired a different brokerage to market the retail space.
But this doesn't dim his enthusiasm.
Some brokers tout a good address. Others are maestros of the raw numbers in a lease. Darrell Rubens is interested in signage.
The 570 Seventh Avenue play represents just one of several where the Winick executive vice president and Riverdale native has shown his skill in ramping up the retail for the landlords he's represented all over town, and doing it by making the visuals the center of the show.
Mr. Rubens helped introduce another Times Square light-up system at 1441 Broadway, inked Warby Parker to the former home of a neighborhood mainstay pharmacy at 1209 Lexington Avenue on the Upper East Side and executed a 32,000-square-foot lease with TJ Maxx at 14 Wall Street in an unoccupied lower-level space that once had neither windows, outdoor entrances nor that all-important element (signage). He has established an impressive record since he elected to try his hand in the real estate industry rather than work at his family's small architecture firm.
"I always really wanted to get more in the development aspect, so I got into retail," Mr. Rubens said. "There's nothing cooler than changing a neighborhood and touching and feeling what you've done."
Mr. Rubens, 42, has completed over $1 billion in retail transactions, according to company figures. Some other notable recent triumphs include the deal for a 22,000-square-foot Lowe's home improvement store slated to open in the second half of 2015 at 2008 Broadway at West 68th Street that he helped broker on behalf of Madison Capital. He also consulted with members of a Tribeca co-op at 498 Broome Street to find out what kind of a retailer they were looking for in a space with 6,435 feet on the ground floor and additional mezzanine and lower -level areas. After finding out that the co-op members wanted a high-end grocery store in the space, Mr. Rubens led a team that inked Gourmet Garage, which opened seven months ago on the site.
The broker has made a name for himself at Winick, said the company's Chief Executive Officer Jeff Winick.
"Darrell has been with Winick Realty Group for 18 years, and, during that time, I have had the pleasure of watching him grow into an accomplished real estate broker," said Mr. Winick. "I consider him not only an asset to the firm but also a partner."
Mr. Rubens has also been partnering with Times Square landlords eager to take advantage of their positions among the teeming crowds of the southern end of the famed bow tie. The LED display of 570 Seventh Avenue, which will be completed in March, will feature a 116-foot-tall digital screen rising up from the corner of Seventh Avenue and West 41st Street and a blade sign—one that juts out of a building—in this case 68 feet in the air, according to figures provided by Sensory Interactive.
The lighting system allows tenants to use the signs to promote their products or sell ad space, and the plans for it alone helped boost asking rents at the building by $400 per square foot, Mr. Rubens said.
"It never had LED signs before," said Mr. Rubens. "We worked hard with the lighting consultants on adding the maximum value to the building."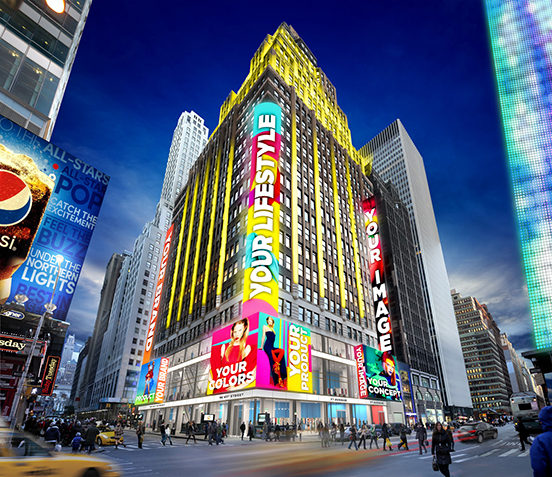 On the other side of Seventh Avenue at West 41st Street, Mr. Rubens and a Winick team have worked with the same lighting designers on a 12,500-square-foot display at Leon Charney's 1441 Broadway. That signage, slated for the third quarter of 2015, will create four clusters of digital signs stretching around and up the sides of the building where Winick is marketing a five-level, 74,000-square-foot retail space. While the system won't loom as large as the eight-story, nearly 300-foot-long screen Vornado unveiled at 1535 Broadway last week, the lighting system creates visibility as far south as Herald Square, said Randy Byrd, president and CEO of the lighting consultant and design company.
Mr. Rubens "is really on the leading edge" in his approach to the markers that beckon potential customers, Mr. Byrd said.
"I think Darrell has really become a leader in the brokerage field in New York in the knowledge that signage will continue to play a part in attracting retailers, not just in Times Square but all over New York," he said. "He and the company have started to develop the opportunity that retailers should be looking for in signage for their space. That ultimately generates new revenue for the owners because it's providing a new asset to the space."
East of the bright lights of Times Square, Mr. Rubens preserved a distinctive blade sign for Warby Parker's space on the southeast corner of Lexington Avenue at East 82nd Street rather than design a new one. The trendy yet humanitarian eyewear brand (they give a pair of glasses to a needy individual for every pair they sell) that started as a website opened its third New York City store in March in a space with 1,600 square feet on the ground floor, a 600-square-foot mezzanine level and an 800-square-foot lower level.
Building owner Samy Mahfar invested over $2 million in sprucing up what had been the home of Lascoff Pharmacy from 1915 to 2012 to prepare the building for a retail tenant and install two luxury rental apartments upstairs, Mr. Rubens said. As they prepared to retire, the former Lascoff owners had been selling artifacts from the store on eBay, but Mr. Rubens successfully intervened before they could auction off the classic pharmacy sign outside the store that he says is visible from East 77th to 86th Street.
He booked Warby for a customized space with large wooden W's above the windows, the charcoal exterior paint of their choice and a restored sign that still says "prescriptions" on the bottom, he told Commercial Observer during a recent visit to the site.
"There's nothing cooler than changing a neighborhood
and touching and feeling what you've done"
"This is the coolest retailer we've had on the Upper East Side for years," said Mr. Rubens. "We really wanted to bring a name to the neighborhood and something cool and different."
The upstairs portion of the building has changed on the site, as well. The Real New York company is marketing a pair of terraced three-bedroom apartments on floors two through four, asking $10,500 per month for the second-floor apartment and $12,500 per month for a two-story penthouse unit. While the building is not officially named "The Warby," despite reports suggesting otherwise, prospective tenants for the apartments always mention the famous retailer Mr. Rubens helped ink, said Real New York co-CEO Louis Adler.
"Darrell's work made it happen," Mr. Adler said. "I don't think Warby would be here without him."
Roughly eight miles south, Mr. Rubens booked TJ Maxx to a space at Capstone Equities' 14 Wall Street that lacked such a historic former occupant. In fact, the lower level plot had never had any occupants, according to Winick's finalist submission for the 2012 Real Estate Board of New York most creative retail deal of the year award. Mr. Rubens delivered a lease allowing the clothing store chain 30 ways out of the lease and helped implement a full-scale redesign of the space with six new windows, an escalator directly from the street and, in the approval which took the landlord the longest to receive from the city, a pair of flagpoles for heraldic signage that provides the tenant with more visibility.
TJ Maxx has prospered at the building, despite the significant challenges in closing the lease and the store's opening in 2011 on a day when Occupy Wall Street protesters nearby were kicking off their demonstrations, Mr. Rubens said. When he started speaking with representatives for TJ Maxx in 2007, the area looked a lot different than it does today, he said.
"The biggest challenge was, 'how do you take retail space with no entrance and add value to the building,' " he said. "We kept on talking about, 'You're near the World Trade Center,' but there was no World Trade Center at that time. I don't think people were even talking about Brookfield Place yet either."
But these days, just like during those fraught negotiations, Mr. Rubens is now looking toward the future. He's getting married next month. And he's focused professionally on the next sites where owners want to add value and a retail tenant.
Pointing out the continuous stream of customers during a weekday morning at the trendy glasses shop, he concludes, "The most important thing is speaking to the owners of the building and understanding what they want in their building."