Hudson Rise's Shanghai Club to Bring the Far East to Hudson Yards
---
---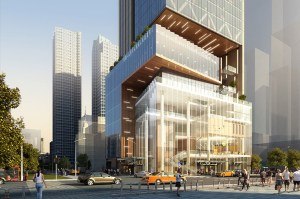 With the unabated influx of Chinese capital pouring into New York City, one would assume that established Chinese businessmen would have a cozy spot to grab a drink, seal a deal, and shmooze their American counterparts in an authentic Chinese setting.
Yet, no such space exists.
These expats are largely relegated to American eateries or Chinese restaurants where the sweet and sour chicken tastes closer to something you'd find in Bayonne than Beijing. However, the proposed Shanghai Club at the Hudson Rise Hotel is preparing to change this by providing a private space for those working or living abroad.
"China is right now the second largest economic entity in the world. And New York is one of the largest international cities. But there is no such domain for the Chinese business people to have in Manhattan," said Shang Dai, the chief executive officer and principal of Kuafu Properties.
Mr. Dai's company, along with New York-based Siras Development, are responsible for constructing the Hudson Rise Hotel, located on 11th Avenue across from the Jacob Javits Convention Center. When completed, the luxury property is expected to rise 47 stories over the new Hudson Yards neighborhood and include 242 hotel rooms, 47 condos, and 108 condo-hotel rooms. The Shanghai Club will be a critical tenet of their property (although developers are quick to point out that plans are still tentative).
Mr. Dai used his own experience trying to conduct business in Manhattan when planning the exclusive club.
"I have this problem going out and having dinner," explained Mr. Dai. "I don't have much choice. I either go to Chinatown, which is not very impressive, or I have western food. We're having this difficulty all the time when we're meeting with people from China and meeting their American partners."
Mr. Dai also said he often has to enlist his friends to get into the Harvard Club, the Yale Club, or the Cornell Club to have a decent meeting place.
Though plans have not yet been finalized, the Shanghai Club is expected to have a high-end authentic Chinese restaurant. Mr. Dai explained that the food will be cooked in the traditional Chinese way and not catered to American taste.
"Right now, restaurants in the city know that people in the states like food sweeter and not as spicy," said Mr. Dai. "This is a restaurant like in Shanghai or Beijing that the Chinese will think it's good."
The space will also include a traditional tea house, which will provide customers with a calm and slow atmosphere to talk about business.
"The tea culture in China is a big culture," said Mr. Dai. "In China, you go to Beijing and Shanghai, you see very good tea and people who are [pouring] the tea are trained. They will tell you what year the tea is from, where the tea is coming from." Mr. Dai also highlighted that in China, business is usually conducted over tea. In America, he noted, restaurants usually have only green or black tea and "you don't have a place to get very good Chinese tea."
The space will likely have a wine bar to complement the Chinese Tea House, underscoring the fusion of east and west.
Mr. Dai also stressed that the club is looking to attract those in the highest stratosphere of Chinese society, and the Shanghai Club will likely forge connections with prestigious Chinese clubs to encourage membership.
"We're in discussion with [prestigious Chinese clubs] for co-memberships, if we have cooperation set up between the clubs," said Mr. Dai. "Those are the people we want to bring in. The business people are very established in China. They have intention to explore the U.S. market."
Yet there will likely still be room for Americans to obtain membership. Mr. Dai said he would ideally like the club to be 50 percent Chinese and 50 percent American.
"The fundamental purpose of the whole club is to create the platform to have east meets west," said Mr. Dai.