Extell Nears $80M Sale of East 47th Street Site [Updated]
---
---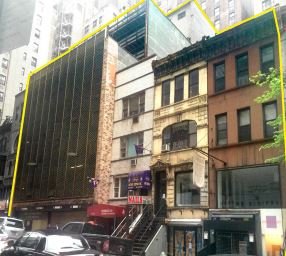 Gary Barnett's Extell Development is close to selling off a four-building site with 128,034 buildable square feet for around $80 million, Commercial Observer has learned.
The four contiguous buildings at 131-141 East 47th Street between Third and Lexington Avenues have a combined $80 million asking price, according to the Massey Knakal Realty Services marketing materials. The site includes an 11-story parking garage and three, four-story mixed-use walkup buildings. It is a ground-up mixed-use development site, which has garnered interest from hotel as well as residential developers, according to Massey Knakal's Robert Knakal, who is marketing the properties with colleagues Clint Olsen, Jonathan Hageman, Ax Hayssen and Patrick Yannotta. Mr. Knakal expects to have a contract signed soon.
Sources with intimate knowledge of the deal said the asking price had been $81 million before being revised to $80 million.
While Mr. Knakal declined to cite the asking price, he said he expects to sell the site for "around the asking price."
Extell bought the parking facility at 131-135 East 47th Street along with another one at 332 West 44th Street from Central Parking Corporation in January 2012 for $39 million. And he bought 139 East 47th Street for $5.5 million in May 2012, 137 East 47th Street for $8 million in May 2013 and 141 East 47th Street in October 2013 for $9 million, all from different sellers, property records indicate.
The entire site will be delivered vacant.
"We're selling a number of pieces of property," Mr. Barnett said. "[These properties are] not strategic for us. They're not that big. We have enough on our plate. We're focusing on certain specific projects. We can't do everything."
Update: This story was edited to include a comment from Gary Barnett.