Douglas Durst Talks Queens, Midtown and WTC
---
---
It took years. It took wrangling from all sides. They brought in the best dealmakers in the business. But it's finally wrapped up. (Mostly.) This week, Conde Nast finally dropped anchor at 1 World Trade Center.
This is a big deal for all involved, including (maybe especially) developer extraordinare, Douglas Durst, who partnered with the Port Authority of New York and New Jersey on the building.
One World Trade Center might be the Durst family's final mark on lower Manhattan — the firm's emphasis having shifted to residential projects and the outer boroughs.
But Mr. Durst — the scion of a generations-sprawling real estate empire — hasn't slowed down. He's kept his attentions on evolving the family business and shepherding the family's wealth (accumulated since grandfather Joseph Durst's first property acquisitions in 1915) toward philanthropic projects, such as preserving park land and creating urban green spaces.
While the Durst Organization was known for developing Manhattan commercial spaces — Seymour Durst once said he "would never buy anything he couldn't walk to" from his Manhattan office — Mr. Durst has become a residential developer of late, with two Manhattan rental projects nearing completion and negotiations underway to build a massive mixed-use project in Hallets Point, Queens.
On the commercial front, Durst is pragmatic, admitting that opportunities for building office space are "very limited," in the current market. Some reluctance to build office space may come from the protracted lease-up of 1 World Trade Center and the frequently fraught public debates around everything from the tower's name and security protocols to its financial viability. Just last week, The Wall Street Journal proclaimed that the building's cost was too high for it to be profitable. "Even with the revenue from tourists and pricey office rents, the building is likely to be worth less than its construction cost, an unusual circumstance due largely to lengthy delays in building and security measures," the Journal wrote.
That is just not the case, Mr. Durst told Commercial Observer. We sat down with the heir last week in his firm's grand 1 Bryant Park digs, on the 49th floor, which features a backdrop of staggering views that stretch from New Jersey to Queens. And Mr. Durst held forth on a number of topics, from how non-profits can preserve their wealth in this real estate market, to the state of the Astoria stretch where he will build Hallets Point, to the fact that popular calculations on 1 World Trade Center are, in his opinion, dead wrong. "There is cash flow for the building as of now," he said.
Hallets Point
The $1.5 billion project known as Hallets Point is a perfect de Blasio-friendly real estate endeavor. The mixed-use project, set to rise in a blighted section of Astoria, Queens, will add 2,400 apartments, some of which will be designated as affordable housing, and bring new retail to an area that is not well served. "There is no retail," in the neighborhood at the moment, Mr. Durst said. "There is one tiny bodega. And there are no banks." His firm is in talks with the community leaders to make sure the retail that goes in at Hallets Point is in line with local needs, he said. "A substantial part [of the project] is bringing retail to serve not just our tenants but also the N.Y.C.H.A. housing which is out there," he said. He added that he doesn't expect to make much profit on the retail rents, since the neighborhood won't command very high rents.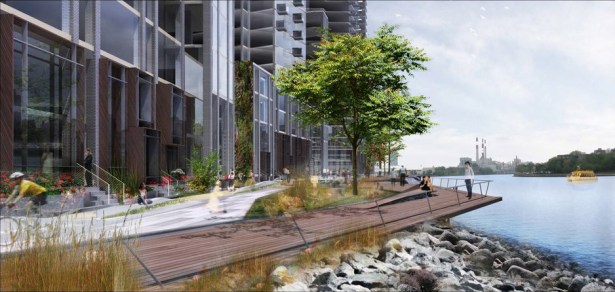 Unfortunately, one holdout is also threatening the project, as The Real Deal reported last month. An entity called Astoria Equities 2000 signed a contract to sell a plot, one of three that makes up the Hallets Point project, in 2007, although the sale was not supposed to close until September 2014, TRD said. Alas, principal Isaac Deutsch is now reneging on his word, almost certainly in hopes of getting more money, a la Daniel Goldstein at the Atlantic Yards.
Mr. Durst isn't worried. "We don't believe that this is going to interfere with our project. We are going ahead with the planning as if we own it. We believe we will win this lawsuit quickly and continue with our plan."
1 World Trade Center
Things at what is now the tallest building in the U.S. are "going extremely well despite the stories [in the paper]," Mr. Durst said. The recent kerfuffle about the cost of construction was misleading, he claims. "A lot of the cost of construction, which is $4 billion, went into things that aren't being valued," in the math that is being circulated, he said. "For instance all the retail is part of the construction cost, but … the Port Authority kept it, and made a substantial deal with Westfield. There are a lot of things in the building that serve the entire campus," that aren't being taken into consideration, he said. "And, as the article points out, trains run under the building, which adds to the cost." That follows, we suppose. The Journal also points out that the observation decks, three floors among the office space on the towers higher floors, will add almost $59 million a year to the building's coffers. Still, Mr. Durst underscores, the building is already generating returns. "There is cash flow for the building as of now," he said.
And what about more tenants for the tower, which is now "scraping 60 percent" leased, according to Durst Organization public relations? "We expect to have more announcements soon."
Non-profits
Mr. Durst helped The New School negotiate the sale of two buildings in recent years, and also sits on the university's board. Rising land prices—and taxes—can be a problem for New York City non-profits in need of space, but Mr. Durst has a suggestion for non-profits looking to cash out—albeit one that benefits his firm, too.
"It's working both ways now with not-for-profits, because they own real estate … very valuable real estate," he said. But what should a non-profit do with the cash they can raise from the sale of such properties? The question presents somewhat of a quandary given the low interest rates offered by many other investments at the moment. Mr. Durst's suggestion is that non-profits buy office space as a commercial condominium. In that instance, they sell, say, a pricey Upper East Side townhouse that was an impractical office anyway, and re-invest at, say, his 205 West 42nd Street building, which has been providing full-floor office condos since the anchor tenant (Pfizer) left in 2012. Following that departure, The Durst Organization converted it to commercial condos where non-profits can buy an interest that won't set them back too badly, and should keep future maintenance expenses relatively low.
Queensway
Mr. Durst is also involved with the Trust for Public Land, a non-profit organization that preserves and creates public parkland across the U.S.
He admits the name of the group is a bit of a misnomer. "I made everybody upset when I suggested we change the name," he said. "It's not a trust. In some states, a trust implies a bank." In fact, the T.P.L. is just an old-fashioned non-profit.
Among the group's current projects is the QueensWay, a 3.5-mile sort of High Line for Queens that the T.P.L. is hoping to build along an abandoned railway in that borough. The elevated pedestrian and bicycle pathway would add recreational space, commute options and, well, trees, to a swath of Queens between Rego Park and Ozone Park.
"It requires a lot of funding but we believe Mayor [Bill] de Blasio is going to be a big supporter, so we believe we'll be able to get it started during his administration," he said. And he may just get his way. Mr. Durst donated the maximum legally allowed to Hizzoner's campaign, as reported.
The project should be underway "in six to eight months at most," Mr. Durst said.