City to Sell $110.6M Land and Development Package for $1
---
---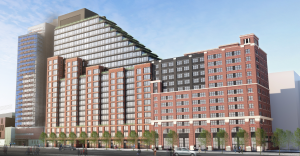 The de Blasio administration will sell a 25,204-square-foot plot on the southern side of West 53rd Street between 10th and 11th Avenues and a development rights package to the Clinton Housing Development Corporation for $1 if city officials greenlight the proposed transaction next week.
The discount purchase would clear the way for Clinton Housing's 103-unit affordable development slated for 530-548 West 53rd Street and Taconic Investment Partners and Ritterman Capital's upcoming 405-unit development with 81 affordable units at 525 West 52nd Street, according to a newly-released proposal from the city Department of Housing Preservation and Development reviewed by Commercial Observer.
The land and development rights the city is proposing to transfer to Clinton Housing for $1 carry an estimated value of $110.6 million, according to an independent appraisal HPD commissioned this fall.
Once the nonprofit receives the land, along with 22,241 square feet of transferable development rights and 86,000 square feet of inclusionary development rights, Clinton Housing will then sell a portion of the parcel and 1,540 square feet of unused zoning floor area to Taconic and Ritterman for nearly $3.1 million to facilitate the 450,000-square-foot tapered apartment building, according to the proposal. But Clinton Housing "will also deliver an enforcement note and mortgage to the city for the remainder of the appraised value" of the land it keeps, a public notice on the sale says.
Officials at HPD, Clinton Housing and Taconic confirmed the proposed disposition but declined to comment further. Efforts to reach Ritterman Capital were not successful.
The proposed $1 buy and subsequent sell-off, which city officials will review at a public hearing on Nov. 24, represents a final phase of approval for the land use action, which the Council approved on June 25. The rezoning, which also included a separate disposition at 556-560 West 52nd Street and gut renovations to create a 100-percent affordable 22-unit building at a former canning facility nearby, won approval recommendations from Manhattan Community Board 4, Borough President Gale Brewer and the City Planning Commission earlier in the year.      
The city first began efforts to revitalize the area by designating a Clinton Urban Renewal Area in 1969, and Clinton Housing has been active in redeveloping the neighborhood in the past 20 years, a history of the site in the rezoning application says. The rezoned area will ultimately yield 206 affordable units and 324 market-rate units, with the state 80-20 program providing financing for the Taconic and Ritterman complex.