Transformed Factories Prosper in LIC's Development Boom
---
---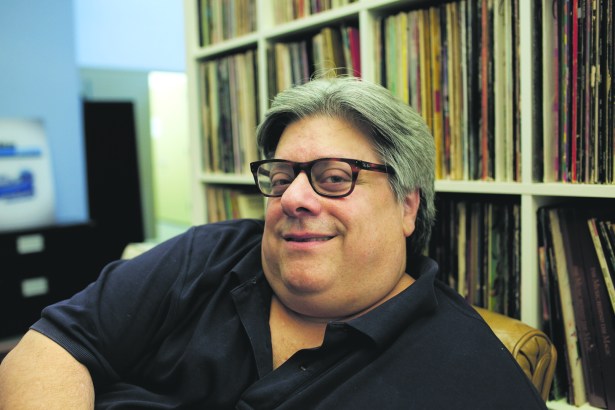 The renowned Scalamandre Silks company once dyed silks for the Kennedy White House and the Hearst Castle where Scott Kushner and his 10 employees now produce videos and reality shows. At the start of this year, after working out of Manhattan for 20 years, Mr. Kushner moved MediaPlace into a section of the bottom floor of the industrial warehouse developer Time Equities has fashioned into today's Silks Building in Long Island City.
And his company boasts enough floor area in three spaces at the property for soundproof labs, cubicles, stages, collaborative desks where staffers edit videos at computers, and a spacious office where Mr. Kushner, 55, the chief executive officer of MediaPlace, displays pictures of his younger days in the music industry working with bands like Hall & Oates and Judas Priest. (Mr. Kushner has no relation to Jared Kushner, owner of Observer Media Group, parent company of Commercial Observer.)
As one of 62 companies and artists in the fully-leased building, Mr. Kushner's company represents part of a larger trend of commercial tenants—from artists to media companies and government agencies—relocating to former industrial properties in the now-booming section of Western Queens where residential towers continue to rise, restaurants have gained Michelin recognition and developers eye further opportunities. Long Island City's proximity to Manhattan has created opportunities for repurposed commercial parcels like the Silks Building at 37-24 24th Street, said Francis Greenburger, the CEO of Time Equities.
"There's a whole new group of tenants who are beginning to understand how convenient Long Island City is," said Mr. Greenburger, whose firm started the building's transformation with studio spaces at the property after acquiring it in 2004 for $7.2 million. "Over time, it evolved. Now, there are certainly artists, but a broader spectrum of tenants utilize it."
Long Island City's boom times took off following the 2001 rezoning of 37 blocks around Queens Plaza and Court Square for large-scale development and the city's designating the area a central business district. The neighborhood has added 2 million square feet of new Class A office space since 2003 and now has opened 24 hotels with more than 2,100 rooms, according to the Long Island City Partnership. Since 2006, developers have built 8,274 new rental and condominium units in the area across the East River from Midtown Manhattan that's near eight subway lines, with 18,088 additional residential units either planned or under construction and eight more hotels in the pipeline, according to the partnership, which operates the area's BID and industrial business zone.
Yet despite the glassy towers that generate the most headlines and loom the largest in the area, renovated and reimagined industrial buildings are also attracting notice from developers and tenants.
RXR Realty purchased the Standard Motors Building, home to the famous Jim Henson Company puppetry and animated programming firm, for $110 million this past summer. Brause Realty's MetLife Plaza—a former Brewster & Company horse carriage, automobile and airplane factory that later served as the insurance company's operational base—now functions as the world headquarters of JetBlue Airways. Atlas Capital Group's old Macy's furniture warehouse has turned into the 1-million-square-foot, multi-tenant Factory Building, while Jamestown's Falchi Building mixes food production with retail and traditional office areas in a repurposed Gimbels department store warehouse.
Former industrial properties in Long Island City are proving to be a wise investment, said Dana Frankel, Long Island City Partnership's director of economic development.
"People want flexible work spaces and they need space to make their things," said Ms. Frankel, who noted examples of six repurposed commercial buildings in the area totaling over 2.7 million square feet. "We're not seeing a lot of conversions to residential. There's such a market for commercial tenants."
Tenants from a variety of sectors have moved to the area to find cheaper rents. While company officials said Time Equities has increased asking rents at the Silks Building from $18 per square foot to $29 per square foot over the past year, that amount falls far below the lowest Manhattan submarket's average asking rent of $48 per square foot in Downtown Manhattan, according to the latest monthly snapshot by CBRE.
Jamestown asks $35 to $45 per square foot for space at the Falchi Building at 31-00 47th Avenue, according to the company's lead broker for the property, Mitchell Arkin of Cushman & Wakefield. Jamestown netted agreements with food producers like Doughnut Plant last month and Juice Press earlier this year, to add to the existing cornucopia of dual production and retail sites on the ground floor of the building. Mr. Arkin recently closed new leases with two different New York City government agencies for more than 70,000 total square feet of office space. Tenants "love the concept" of the food, the work setup and the rents, Mr. Arkin said.
"It's hard to find price points like that in Manhattan," he said. "It's almost half what you're going to find in similar spaces in Manhattan. We're finding interest from all the Manhattan brokers about Long Island City. It's being driven by the tenants."
Tenants have also embraced the transformation at the Silks Building, which is a 13-minute subway ride away from Times Square. Time Equities asset manager Brandon Medieros and building manager Patrick Long invited Commercial Observer for a tour along the polished wood corridors and inside the shiny steel doors of the four-story, 110,000-square-foot brick building with a generous bank of skylights above the top floor. Messrs. Medieros and Long recently installed a key fob security system for the eight separate entrances to the divided building with tech, light manufacturing, artisan, artist and media tenants working out of spaces ranging from 500 square feet to 10,000 square feet.
While the tidy loft property stands out in a neighborhood still marked by construction sites and industrial parcels, Mr. Kushner said MediaPlace's transition from Midtown South to a 25 percent larger footprint in Long Island City with a 50 percent reduction in overhead has been a positive one.
"It's been a great move," said Mr. Kushner. "The idea of moving across the river after 20 years in Manhattan was not an easy pill to swallow for me. But I look back, and now I say, 'Wow, it's been almost a year, I'm so happy we moved here.' We came here at just the right time."
Mr. Kushner's bottom-floor space is next door to Bone Simple's 4,000-square-foot production facility where five workers at founder and CEO Chad Jacobs' light fixture company worked away to the sound of streaming harpsichord music on a recent afternoon. On the fourth floor of the building in a 612-square-foot studio with draped factory window views of the Manhattan skyline, multi-discipline artist Ana de la Cueva unwrapped an assemblage of women's underwear stretched on embroidery hoops entitled "Billings."
The Silks Building takes on more tenants at higher rates by offering smaller-footprint spaces that still represent larger plots than most tenants had in Manhattan.
"We never really got into the square-footage game," said Mr. Medieros, who noted inquiries from CBRE, C&W and JLL brokers about the property. "There's always demand for small spaces."
While the Silks Building represented Time Equities' first renovated factory project in Long Island City, the company has also completed transformations of parcels in Toronto, Montreal and Berlin, Mr. Greenburger said.
"It really has to do with the creative class and the fact that there are a lot of people who don't want to work in downtown areas but who need quality space with quality light and good amenities," he said. "They actually have a preference for this building type."