Stat of the Week: 53 Percent
---
---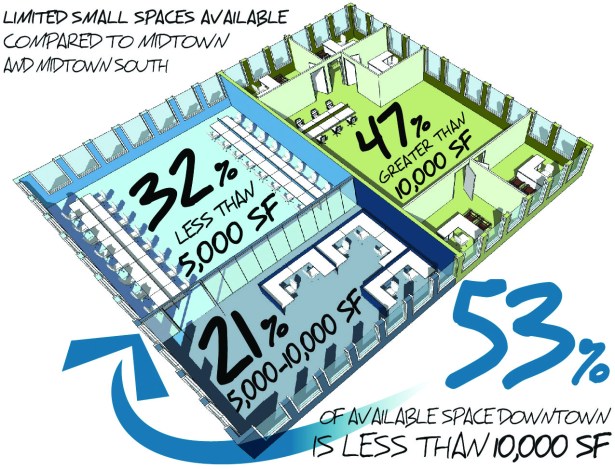 Downtown Manhattan has dominated headlines over the past year, as tenants continue to lease large blocks of space, causing the available supply to shrink. Year-over-year the number of 100,000-square-foot blocks dropped to 12 from 17. The total square footage from these 12 blocks consists of 3.7 million square feet, down from the 4.9 million square feet available one year ago.
Downtown had the largest decrease in supply from the large block availabilities with just under 1.2 million square feet absorbed, whereas Midtown and Midtown South experienced over 900,000 square feet absorbed. With 1 World Trade Center coming to its completion, expect the number of large blocks on the market to increase to 15 during the fourth quarter.
Although large availabilities are disappearing Downtown, plenty of opportunities still exist for smaller tenants looking for value-oriented space. Available space of 10,000 square feet or less makes up 53 percent of Downtown availability. That figure is less than the 57 percent in Midtown South and 60 percent in Midtown. The Downtown market tightens further for spaces smaller than 5,000 square feet, accounting for only 32 percent of the total market availability, compared to 40 percent in Midtown South and 37 percent in Midtown.
Contributing to Downtown's success is the price differential in overall asking rents between the three markets. Despite a $2.92 per square foot year-over-year increase to $50.66 in overall asking rents, Downtown still lags behind Midtown and Midtown South. The spread between Downtown and Midtown asking rents increased by $3 over the past 12 months to $25.88 per square foot, as Midtown overall asking rents escalated. The gap narrowed between Midtown South and Downtown to $13.29 during this time frame, down $1.89 per square foot in the past year.
The opening of 1 World Trade Center this quarter, along with low asking rents compared with the rest of Manhattan, will continue to drive Downtown demand in 2015.