Papyrus Takes Chelsea Crumbs Location
---
---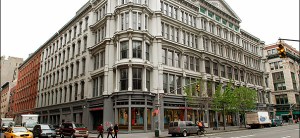 Stationery, greeting card and gift shop chain Papyrus has signed a new lease for an old Crumbs location at 655 Avenue of the Americas, Commercial Observer has learned.
The 10-year deal, which was signed last week, is for 1,372 square feet on Avenue of the Americas between West 20th and West 21st Streets, said Taryn Brandes of SCG Retail, who represented Papyrus along with SCG Retail's Jacqueline Klinger. The asking rent was roughly $250 per square foot.
Papyrus hopes to move in before Thanksgiving, Ms. Brandes said.
The 60-year-old global company has 450 stores and is now part of Schurman Retail Group, according to Papyrus' website. There are Papyrus locations at 678 Hudson Street and in Grand Central Terminal at 107 East 42nd Street.
"Cards won't go away," she said. "Everyone needs a card for the holiday." And that location was good because of the burgeoning residential community, the Midtown South office community and the existing traffic Trader Joe's at 674 Avenue of the Americas between West 21st and West 22nd Streets.
The deal was done directly with the landlord, United American Land.
In early July, Crumbs abruptly closed all of its locations a week after its shares were delisted on Nasdaq. It emerged from bankruptcy in August and some of its locations have reopened.