Pantzer gets $32M for Philadelphia Multifamily Buy
---
---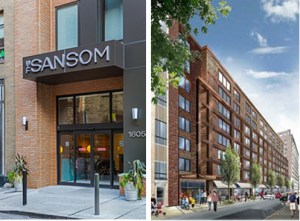 New York-based Pantzer Properties received a $31.5 million loan for the purchase of The Sansom, a multifamily property located in Philadelphia, Mortgage Observer has exclusively learned.
The loan was provided by Investors Bank, a source close to the deal, who asked to remain anonymous, told MO. 
The five-year loan features a fixed-rate of 3.13 percent and two years of interest-only payments, followed by a 30-year amortization schedule, according to a representative for Meridian Capital Group, which brokered the deal.
Meridian Capital Group Senior Managing Director Drew Anderman and Senior Vice President Alan Blank negotiated the loan.
The Sansom is an eight-story, 104-unit multifamily property with 10,900 square feet of retail space occupied by a spa and two restaurants. The property, located at 1605 Sansom Street, in the Center City area feature a fitness center, bicycle parking and an outdoor terrace.
Negotiations were quick, the Meridian brokers told MO.
"We successfully closed this financing within six weeks of signing the term sheet," Mr. Anderman said.