Midtown Leasing Slows With Availabilities Looming
---
---
Despite upticks in rent prices and decreased availability rates in both Class A and Class B properties in Midtown, the area moved less real estate in terms of raw square footage in the third quarter, according to the latest quarterly Manhattan office report released last week by Cresa New York.
The area between approximately 66th and 42nd Streets that the firm refers to as "Midtown North" totaled 3.8 million square feet of leasing transactions for the quarter, down from 4.9 million square feet in deals that were leased in the second quarter, 4.8 million square feet in the first quarter and 6.6 million square feet in the last quarter of 2013, the report says.
Even with Class A rents rising to $74.81 per square foot from $74.51 per square foot in the third quarter and Class B rents growing to $56.50 from $54.58 while availabilities in both types of properties held steady, the suggestion is that more firms looking to Midtown South and Downtown, like Time Inc.'s relocation to Brookfield Place, could foreshadow large blocks of vacant space in the future, said Peter Kozel, the company's principal for consulting services.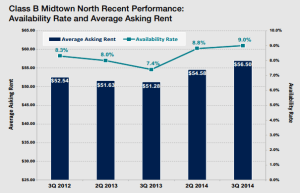 "We're seeing tenants, big tenants, tending to leave the Midtown North market for the new space being built at the World Trade Center and Hudson Yards," said Mr. Kozel. "We know that there are blocks of space that are coming on the market that are not yet reflected in the availability rate. The question is who is going to rent that space."
That trend for Class A properties, which Mr. Kozel termed a "flashing yellow signal" rather than a "red light" or a "disaster signal," contrasts with movements at the Midtown Class B properties favored by smaller firms, according to Cresa's report. In addition to the Midtown-wide increase in Class B rents and the 9 percent availability rate, asking rents at Class B properties in the Columbus Circle submarket jumped to $60 per square foot from $55 per square foot in the second quarter, the report says.
"You have seen good growth in smaller firms," Mr. Kozel said. "They tend to be, at least initially, attracted to Class B space both for culture and price reasons."
And the overall Midtown area did see its 17th consecutive quarter of increased asking rents, with a gain to $70.29 per square foot from $69.81 per square foot in the second quarter, according to JLL's third-quarter report. Both the overall vacancy rate of 10.1 percent and the Class A vacancy rate of 11 percent registered their lowest figures since the third quarter of 2008, while the Class B vacancy rate of 8.4 percent represents the lowest proportion since the first quarter of 2008, JLL's report says.