Laura Pomerantz–the Retail Maven
---
---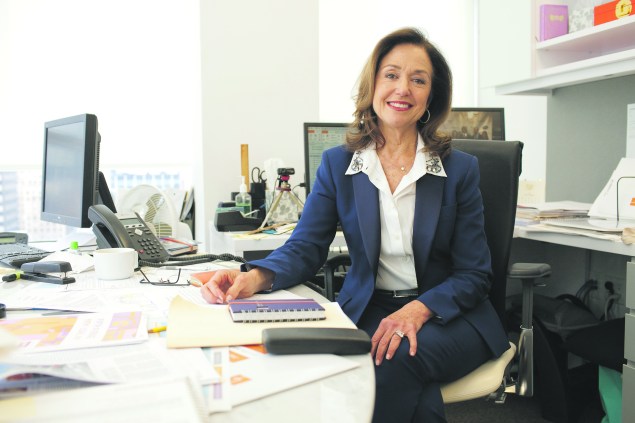 Last month, Laura Pomerantz, the principal and founding partner of Laura Pomerantz Real Estate, celebrated the one-year anniversary of her firm's lease at 757 Third Avenue with champagne and cupcakes. She and her team of four brokers and eight employees moved into the space between 47th and 48th Streets five months after Ms. Pomerantz established her own firm. Also in September Ms. Pomerantz co-represented Hudson's Bay Company in its 500,000-square-foot leases for a Saks Fifth Avenue at Brookfield Place, a Saks Off Fifth at 1 Liberty Plaza as well as office space in Lower Manhattan.
Over the last decade, Ms. Pomerantz says that she has closed over 8 million square feet in deals for clients including Bloomberg L.P., Stroock & Stroock & Lavan, Giorgio Armani and Stuart Weitzman.
Ms. Pomerantz has over 20 years of working in the commercial real estate industry. She was a founding partner and principal at the defunct PBS Realty Advisors. She also was a senior managing director at what was previously called Newmark & Company Real Estate, was in senior management positions at SL Green Realty and was the executive vice president of The Leslie Fay Companies.
Last week, Commercial Observer sat in Laura Pomerantz Real Estate's conference room and conducted an interview with the company head over the phone as she made her way through traffic, driving into the city from her home in Harrison, N.Y. Ms. Pomerantz talked about having a female-only firm, her dream deal with Hudson's Bay Company and retail trends. The interview terminated just as Ms. Pomerantz made her way into the office.
Commercial Observer: Are you an all-female firm?
Ms. Pomerantz: It wasn't intentional exactly, but it just worked out that way. We had [a man] who worked with all of us and he recently left for another firm. He was just here Friday. He misses all of us. I've always believed, whoever you work with, you want a supportive atmosphere, an atmosphere of professionalism and that's what we've tried to generate regardless of gender.
What percentage of your business is tenant rep?
Seventy-five percent of the business, maybe 80. The balance is landlord work.
What is your firm's retail-office deal breakdown?
Usually I would say it's 65 percent retail and 35 percent office or maybe 60-40.
You and a team at CBRE including Steve Siegel represented Hudson's Bay Company in the deal. What was it like working with the CBRE team?
Steve Siegel and I have a longstanding relationship. We've just know each other forever. In my prior associations, I had an affiliation with Insignia, which ultimately became CBRE.
My experience working with CBRE on this project was—we were seamless.
What was the clincher in the Saks Fifth Avenue deal?
A combination of the vibrancy of the area and of course the economics were better than in Midtown. For the retail, there is no department store down there and certainly no luxury department store. There's a tremendous opportunity to grow both residentially and with offices. There's a real demographic for Saks to do well down there.
Sakes Off Fifth—as Richard Baker [chief executive of Hudson's Bay] said in one article somewhere, it's the premier location to have because it faces Century 21, which is quite successful there.
In terms of the office, there's a tremendous quality of life in the office spaces, given the amazing food court that Brookfield has put in and the services the developers are all including in their buildings. The amenities in shopping and restaurants [and] all of those factors also play into the appeal of downtown. And then of course the economics make a whole lot of sense. And then some of the incentives and taxes and things like that.
How long did it take to hammer out the deal?
A little over six months. I have been on deals like this that have taken literally two or three years. Because of the competition right now, there's fierce competition down there. It had to be on the fast track. The head of Hudson Bay, Richard Baker, and the head of Brookfield [Dennis Friedrich] had a mantra for all of the people involved in this to get it done.
What kind of impact will Saks and Saks Off Fifth have on downtown?
They're going to have a major impact. People living down there and working down there have to go to Midtown to have a luxury department store. It will make a major difference in the shopping patterns. The tourism, by virtue of it being so close to a combination of things—the Fulton Street Station, the 9/11 Memorial—there's going to be an enormous amount of foot fall that's associated with that area.
What's the most exciting deal you've done this year?
Without a doubt, hands down, the work for Hudson's Bay. It's very layered. It's complex. It's office and retail. It's kind of a dream assignment. It was challenging and I like working on complicated, challenging deals. I enjoyed the collaboration with the Hudson's Bay executives. I enjoyed the negotiations with Brookfield. Even the attorneys were great on both sides in terms of working through finding solutions when you have challenges, etc., etc. It was a truly great experience.
What emerging trends are there in terms of retailers and their expansion in New York City?
The trends are to look at the emerging projects and areas, so the two downtown—Brookfield Place and World Trade Center. And Hudson Yards, which I think is developing fantastically, is another emerging area and will define a neighborhood and bring incredible vibrancy to that part of the West Side. In New York City, you have the chance to redefine a neighborhood. Like for example, the project that Vornado [Realty Trust] is embarking on around Penn Station will be very, very interesting because it will redefine a neighborhood that should be redefined. The other part of the city that is tremendously exciting is Williamsburg [Brooklyn].
Are there any new trends in terms of retailers that are coming to New York City?
There's a lot of menswear that's coming to New York City, especially to Madison Avenue. There are a lot of contemporary retailers like Rag & Bone. They're all coming from outside the country. Whenever anyone starts retailing in the U.S., the logical place to start is New York.