General Assembly Expands at 915 Broadway
---
---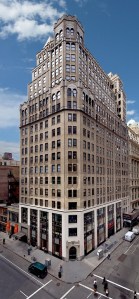 Tech, business and design educator General Assembly has expanded at 915 Broadway, with the addition of 13,386 square feet on the entire second floor.
General Assembly has occupied the full fourth floor in the building since early 2012 and then added the third floor in March 2013. The most recent addition of new space is the result of a recent Series-C funding of $35 million, ABS Partners Real Estate said in an announcement about the expansion, and brings General Assembly's total square footage to 40,158 square feet. Since 2012, ABS Partners Real Estate and a group of investors have owned the building.
The 20-story, 225,000-square-foot office and adult educational facility headquarters on the corner of 21st Street serves both entrepreneurs and corporate clients. The 225,000-square-foot office portion of the building is now 95 percent leased.
Asking rents for the office space are $65 per square foot, a spokeswoman for ABS said.
James Caseley, Carol Sacks and Alex Kaskel at ABS Partners represented the owners in-house, while Bert Rosenblatt and Andrew Stein from Vicus Partners represented General Assembly, Real Estate Weekly reported.