Fulton Street Parking Garage to Be Replaced With 'Exhibit'
---
---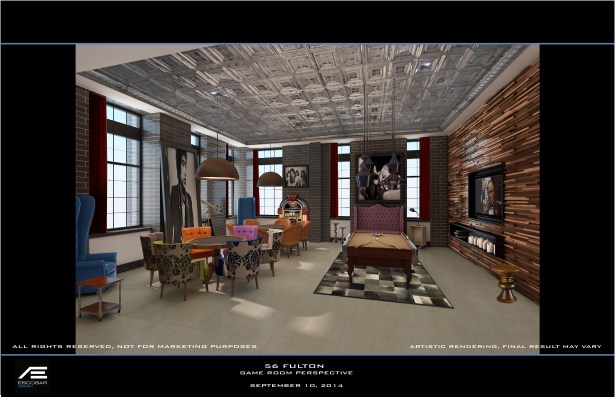 A 10-story parking garage at 56 Fulton Street was permanently closed after Labor Day and the owner is seeking a demolition permit to tear it down.
Steven Brauser, who filed for the permit application with the Department of Buildings, has partnered with Socius Development Group to erect an 130,000-square-foot rental building at 56 Fulton Street, at the corner of Cliff Street. The 23-story, 120-unit building will be called Exhibit, Scott L. Aaron, a principal at Socius, told Commercial Observer.
Mr. Aaron is hoping to begin demolition at the site at the beginning of next month and complete the project by the end of 2016.
The Brauser family has owned the Fulton Street property since the 1980s and with a hot rental market, they felt the time was right to redevelop it, Mr. Aaron said.
Mr. Brauser teamed up with Mr. Aaron following the success of a past project. In 2008, Mr. Aaron developed the residential condominium at 100 West 18th Street while working at The Brauser Group, run by Mr. Brauser's father, Gerald Brauser
The goal of the Fulton Street project is to keep the industrial flavor of the old South Street Seaport, Mr. Aaron said. The six-story base will be constructed out of wire-cut brick with multi-pained oversized windows. And a glass tower rises above the base.
The building will have 80 percent market-rate and 20 percent inclusionary housing, with "all affordable units getting the same Stevali Italian kitchens," Mr. Aaron said. "The finishes are all the same." Units will range from 450-square-foot studios to 1,250-square-foot two-bedrooms. More than 50 units will have a balcony or terrace.
Goldstein Hill & West Architects is the architect on the project and Andrés Escobar is tasked with designing the interiors.
Looking to have a cool and hip vibe, each corridor will showcase photos of artists and musicians from the 1970s and 1980s. The selection of images will be curated by Rock Paper Photo, which represents distinguished photographers.
"These photographers were on the front lines of the cultural revolution in the '70s and '80s in New York City," Mr. Aaron said, adding: "They captured these moments in time. I like the rawness of the music and the art from that time. It's not as polished as we see today."
The building will include a 1,100-square-foot gym and 300-square-foot yoga studio in the basement and over 4,000 square feet of amenity space on the 23rd floor including a parlor, two wrap-around terraces, a lounge with a fireplace, a demonstration kitchen/dining room and a laundry room that will look like a library.
Heller Organization will be handling the residential rental leasing side and Jeff Winick of Winick Realty Group will lease out the 6,300-square-foot, ground-floor retail space.