FilmRise Relocates to Sunset Park's Trendy Industry City
---
---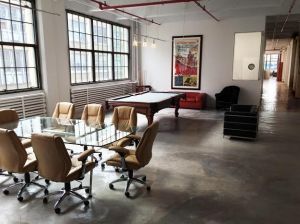 Digital distributor FilmRise has moved to Industry City, a space in Sunset Park that has attracted creative and manufacturing industries.
FilmRise moved into its new 5,000 square-foot industrial space at 34 35th Street on Oct. 1. The space in the waterfront development includes 100 year-old wood floors and windows overlooking New York Harbor and the Statue of Liberty.
"We are excited about our new location in Industry City," said Alan Klingenstein, the chairman of FilmRise, in a prepared statement. "Being able to operate our business from Brooklyn's current hot spot is stimulating and inspiring. This neighborhood directly aligns with the way we view our business – revolutionizing the old into something contemporary and future-oriented."
Prior to moving to Sunset Park, FilmRise operated out of CEO Danny Fisher's Park Slope brownstone.
FilmRise leased directly from the owner, Bush Terminal LP. The 5.5 year lease was signed July 1, and the asking price was $28 per-square-foot. It is managed by Jamestown Properties, which also manages Chelsea Market.