ESB 2.0: The World's Most Famous (Repositioned) Building
---
---
When digital imagery licenser Shutterstock moved its global headquarters uptown from the Financial District to a two-floor, 85,000-square-foot office in the Empire State Building earlier this year, the 11-year-old firm moved in the opposite direction of the city's downtown tech trend. But the company's terraced space that boasts employee game rooms themed around Super Mario Brothers and Alice in Wonderland is starting to represent the norm in a greened, amenity-laden landmark where social networking site LinkedIn occupies over 158,000 square feet and tenants will soon start visiting a new 15,000-square-foot gym and a 100-table luxury restaurant.
Before the famous building's landlord, the Empire State Realty Trust, started renovations, 174 different tenants operated out of floors three through 25, company officials said. These days, only LinkedIn, Shutterstock and four other companies have filled those floors to capacity.
| | |
| --- | --- |
| Presented by AT&T | |
And the $450 million renovation that's scheduled to be completed by the now publicly traded company by the end of 2016 is nearing the finish line. Ryan Kass, ESRT's director of leasing and marketing, took Commercial Observer for an exclusive tour from the subsurface facility where retrofitted water chillers cool the building, up through the nearly completed gym and restaurant and the familiar 86th floor observation deck where a steady line of tourists waited patiently for the view. The landlord, who will eventually move its own offices to the Art Deco 1931 structure, is ushering the 2.7-million-square-foot, 1,250-foot tall skyscraper into a new era with confidence that its upgrades and status afford it a special advantage over the competition.
"In August of 2006, the average fully escalated rent per occupied square foot in the building was $26.50," said ESRT CEO Anthony Malkin in a prepared statement.  "There were over 750 individual suites, most of which had not been upgraded for several decades.  Virtually every inch of the building has gotten or is nearing completion as part of our Empire State ReBuilding program to deliver one of the most advanced, 21st-century buildings in the world with state-of-the-art systems, a full complement of exceptional and exclusive amenities, all housed in the architectural gem that is the world's most recognizable office address."
With Mr. Malkin, the grandson of one of the 1961 purchasers of the building, now leading a company with net assets of almost $2.5 billion, the beloved structure has leased 86 percent of its space to command total annual office rents of $103.8 million at $45.21 per square foot and total yearly retail rents of $15.3 million at $115.06 per square foot, according to ESRT's latest available quarterly report. (Asking rents now range from the high $50s to low $70s per square foot, company officials said.)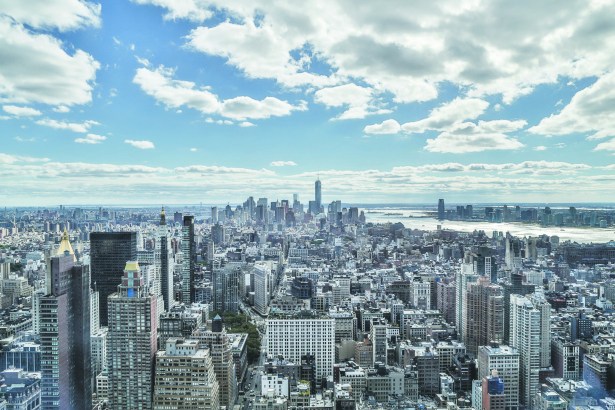 But the building's owners also benefitted from roughly $101.8 million in revenue from a record 4.3 million observatory visitors and around $20 million in revenues from broadcast licenses and antenna leases on the building's 200-foot mooring mast spire in 2013. Officials at the REIT that went public in October 2013 welcome the challenges associated with being a publicly traded company, Mr. Malkin said.
"Our lives have become far simpler since we went public," said Mr. Malkin.  "Our 23 predecessor entities included three public registrants, so we were already filing Q's and K's.  With our low-levered, centralized balance sheet and modern governance documents, everything is far more straightforward."
The company's commitment to repurposing the Empire State Building, as well as its six other Manhattan office properties, plays a key role in attracting tenants and shareholders alike, Mr. Malkin wrote in the latest quarterly report.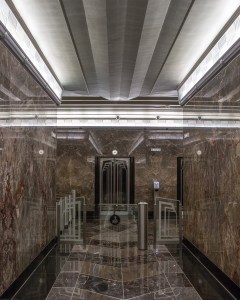 And the stunning lobby at the Empire State Building certainly sets the tone for the property. After the company finished a renovation in 2009 that took longer than the one year and 45 days it took a team led by former Governor Al Smith to build the entire original structure, the lobby's shiny marble floors, maroon-uniformed staff and an astrological ceiling motif fashioned as industrial gears evoke a bygone era. New features like four new tenant-only entrances and 10 visitor-only entrances that allow the roughly 11,000 tenants and building staff to avoid the millions of tourist visitors and greening programs targeting a 38 percent emissions cut—have allowed ownership to attract "top flight" tenants like the Federal Deposit Insurance Corporation, Skanksa construction and beauty products manufacturer Coty, said Gregg Slotnick, a vice president for commercial leasing at HelmsleySpear.
"They've done a terrific job really upgrading it, bringing it into the 21st century," said Mr. Slotnick, who hasn't represented any tenants at the building where his company's late founder, Harry Helmsley, used to be part owner. "It's a much different product than it was 10 years ago."
New tenants like Shutterstock and a future occupant, the digital video advertising specialists BrightRoll, also note the new features. While BrightRoll won't be moving into its 26,282-square-foot space on the 55th floor until the second quarter of next year, Shutterstock, with over 40 million separate pieces of available creative content, occupied its office in January. Its 350 onsite employees are enjoying their space with a central staircase leading between the 21st and 20th floors, a "video wall" that runs a loop of the company's videos and pictures and conference rooms named after global landmarks and historical innovators, said Vice President of People Strategy and Operations Tracy Kim.
"It was a very cool modernization of a very iconic building," said Ms. Kim. "They allowed us to do the build-out completely the way we wanted it."
Employees at the building will soon have new exercise and dining options onsite, as well. The Patina Group's new upscale restaurant, State Bar and Grill, will open by the time this article is published, said Mr. Kass. The building already boasts five dining and food options with more to come in its total 142,000 square feet of retail space on ground, lower and concourse floors, company officials said. The fitness center, which Mr. Kass said will be the largest tenant-only gym in New York City, features three private workout areas, a sleek locker room and a membership charge of only $35 per month.
"The very exciting new amenities, the tenant-only fitness center, private executive gym, State Grill and Bar with private executive dining and event space, and tenant-only conference center, are done and open," Mr. Malkin said.
But most tourists who visit the building will never see the new facilities on the trip in one of the structure's 70 elevators, the newest of which store and re-use kinetic energy. They also might walk around the still-breathtaking 360-degree view at the observatory without understanding how a window factory that ESRT operates for the building installed a film filled with krypton-argon gas, quadrupling the insulation ability of each of the structure's 6,514 windows. Admiring the Empire State Building's capacity to display 16 million colors in a Philips Color LED display represents the surface view of a sophisticated set-up in which building staff programs show in-house from a digital control panel while lighting designer Mark Brickman handles the complicated shows. Regardless, the building will continue to loom large to both those who work in it every day and are visiting for the first time.
"I really liked the view, but I also really liked the building," said London resident and video producer Caroline Roberts, 29, after she and her friend visited the famous observatory at the start of a four-city American tour for their 30th birthdays. "Even though you just seem to go up and down, you do have an experience."