Adelaide Polsinelli—a Commercial Real Estate Maverick
---
---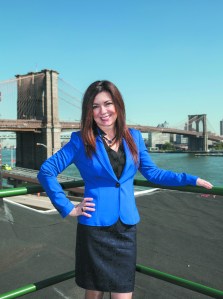 In an industry dominated by men, Adelaide Polsinelli has held her own since entering the profession 29 years ago on the residential side at Century 21 Real Estate. Ms. Polsinelli, a senior director at Eastern Consolidated since March 2012, is juggling a dozen exclusive listings, the bulk of which are in East Harlem. She is co-listing two mixed-use buildings in the South Street Seaport, one of which is home to the Paris Café, for $25.8 million. Ms. Polsinelli talked with Commercial Observer over lunch at the café about the Seaport, her favorite deal and the advantage of working at Eastern Consolidated.
Commercial Observer: You seem particularly jazzed about this property, at 116-119 South Street. Why?
Ms. Polsinelli: How cool is it to sit in this café and know that Teddy Roosevelt and Thomas Edison sat right here? This is the anchor of the South Street Seaport. As one of the oldest and historically significant locations in Manhattan, it has always been the welcome mat for visitors, tourists and locals. This building has been here since the 1800s. It is the crown jewel of the area.
Any bites on this listing?
It's getting attention from celebrities, international developers and investors. We're seeing interest from people who want to convert it to a boutique hotel, a cabaret entertainment center, a theme building and a Soho House.
What's the hottest market right now?
I think South Street Seaport. Bolstered by the new Fulton Street transportation hub, it has become not only a tourist destination, but an easily accessible residential neighborhood. The South Street Seaport District is currently undergoing a significant revitalization that is being spearheaded by national developer the Howard Hughes Corporation. The most notable redevelopment is occurring on Pier 17, which broke ground in 2013 and is anticipated to be completed in late 2015/early 2016. This exciting development will bring 365,000 square feet of new luxury retail and dining space, as well as 75,000 square feet of public space and a 1.5-acre roof deck with an amphitheater for outdoor concerts and events.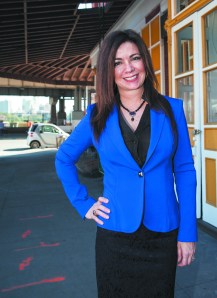 What's your favorite deal?
The Hit Factory [at 421 West 54th Street, where she sold the Gibson Guitar retail condo for $7.25 million in June]. It was a retail condo on the side street. Not everyone likes being on a side street. It didn't have all the components that a retail condo usually has. It didn't have a storefront. It wasn't a typical store. It was used as a flagship for Gibson Guitar. It was a recording studio turned into condos. Celebrities and musicians would come in, get guitars repaired and practice. It was the first deal for American Realty Capital's new fund. It was a deal where everyone got along. It was a cool hip story with Gibson Guitar. Most investors didn't get it. [My buyer] understood the tenant.
Are there any new trends?
There are a lot of buyers combining their resources and talent pool so you're getting a hybrid buyer.
What do you like about working at Eastern Consolidated?
There's a deep bench of talent. I can have a conversation with any of them and we finish each other's sentences. It's a team of mavericks. We have a lot of deeply talented experienced professionals.
Do you have a team?
No.
What does your job entail on a daily basis?
I spend a good part of my week meeting and connecting with owners, investors, developers, bankers and attorneys. To be a successful dealmaker, it's important to also be a matchmaker. I look for compatibility and commonalities when I meet with clients. My best deals come from putting parties with complimentary goals together.
What makes you successful?
Having the passion to deliver not just a price and a closing, but to deliver a story—a creation. Also, having a reputation for going to bat for my clients and being committed to being their advocate in the marketplace. I don't measure my success by how many deals I did or how long I'm in the business—I measure it by each deal. Did I do a good job? Did everyone walk away feeling like they had a fair transaction? No one deal should define a broker's success. You've got to be able to do it again and again, in good markets and in bad.  Success is about consistency. Anyone can look good in a great market. It's the tough markets that define a broker's success. Success is about putting the right people together and creating a great deal for all parties.
Who's your main competitor?
I don't have any. I have strategic alliances with everyone in the marketplace.
You did residential real estate for a year. Why did you go into commercial?
A deal could blow up because someone didn't like the color of the bathroom tile. The decisions were made mostly on emotions, not on the merits of the deal. I had more of a business view of real estate which made commercial a better fit for me.
What's the best book you've read recently?
Risk to Succeed by Ricky Cohen. The message is about finding your passion, taking chances and risks to achieve your dreams. It was inspiring for me because my passion has always been real estate. It's not a job, it's a way of life.