Vice's Grip on Williamsburg Reflects Changes in Gentrifying Neighborhood
---
---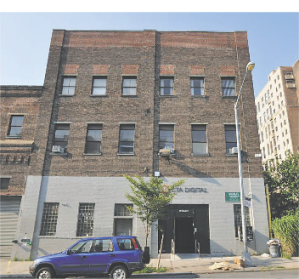 Too many employees needing more space in the right neighborhood is a perpetual New York commercial real estate conundrum. Perhaps no tale illustrates this quandary in 21st century Brooklyn quite like media powerhouse Vice's relocation to its new office space on Williamsburg's south side.
Already based in Williamsburg, Vice had been searching for space in the ballpark of 50,000 square feet for 18 months, and its quest was becoming dire. Because of its branding strategy and target demographic, Vice was unlikely to find a space meeting its needs in the marble tiled buildings of Madison Avenue or the Financial District's steel skyscrapers. Brooklyn, and more specifically Williamsburg, would be a far better fit for the international media company that has been called "basically a millennial whisperer."
Enter Drew Conner, a broker with 25 years of real estate experience who earlier this year was working for Cushman and Wakefield. (Mr. Conner has since left to found his own company called Dash Rock, which provides commercial real estate services designed to simplify the brokerage and consulting process.)
Mr. Conner had recently worked with Sol and Leo Markowitz, owners of two connected buildings at 49 South 2nd Street, once the original headquarters for Domino Sugar, and 285 Kent Avenue. The Markowitz brothers initially purchased the buildings, which collectively total 75,000 square feet, 15 years ago as a home for their electronic accessory business CTA Digital.
Mr. Conner believed the space at these addresses was not fulfilling its post-gentrification potential, especially given the scarcity of commercial space available in the area. When presented with the option, developers working in Williamsburg almost always choose to convert buildings to residential units.
"If I build condos in Williamsburg, I will sell them," Mr. Conner explained. "If I build an office building, I might be stuck with it."
Moreover, in the 15 years since the Markowitzes made their purchase, Williamsburg had changed drastically.
"There were empty buildings. It wasn't a safe neighborhood," Sol Markowitz said of his early days in the area.
Today, the neighborhood commands $60 per square foot for commercial space.
Though the brothers had tenants that embodied the area's creative bent, including popular music venue Death By Audio, Genius Media, Windmill Studios, indieScreen and Brooklyn Bowl, Mr. Conner envisioned the sizable space meeting Vice's specific and difficult-to-achieve needs.
All it would take was the Markowitz brothers agreeing to simultaneously terminate the existing leases, empty the properties and create a full space the right size for Vice.
"I approached Sol and Leo and said, 'This is crazy, but I want you to listen to the end," Mr. Conner explained. He saw unparalleled potential in the buildings' size, roof and views of Midtown, and wanted to impart his real estate inspiration to convince the Markowitzes.
"Once we started talking through this, Sol and Leo started to get enthused and I think they could see it," Mr. Conner said.
After Mr. Conner sold his plan to the brothers, he then went to Vice to gauge the company's interest. Vice then pledged its patience and cooperation to ensure the deal came to fruition.
"Vice understood that this was a check in virtually every box for them in terms of location, in terms of flexibility and in terms of the amount of space," Mr. Conner said.
The deal finally closed the week of June 24, with Vice signing an eight-year lease with an option to extend. Vice's new office consists of the two buildings, which are joined. For the purpose of Vice's occupancy, the buildings are treated as a single unit.
When asked about the evicted tenants, Mr. Conner explained that Vice still embodied the Williamsburg ethos.
"It would be one thing if all of those … traditional Williamsburg tenants were being replaced by JP Morgan's digital media group," Mr. Conner said. "But that wasn't the case. It's Vice."
| | |
| --- | --- |
| "There were empty buildings. It wasn't a safe neighborhood," Sol Markowitz said of his early days in the area. Today, the neighborhood commands $60 per square foot for commercial space. | |
Mr. Conner also facilitated Genius Media's move from its 16,000-square-foot office in Williamsburg, which it was quickly outgrowing, to a 43,860-square-foot space at 68-92 3rd Street in Gowanus. The company plans to complete its move this January.
Like Vice, Genius Media cared tremendously about creating a comfortable working environment for its employees that was true to its gritty, countercultural roots.
"We created a simple program that took everyone at the company's home address and we could put in a potential office address, and we could come up with the cumulative commute time," Ben Gross, the general counsel for Genius Media, explained. "Gowanus shook out really well."
Mr. Gross said that the company's predominantly Brooklyn-based employees will benefit from the planned event space, the "neighborhood vibe" and what he described as the "Seamless situation," or how easily lunch from seamless.com can be delivered to the office.
Yet not everyone has settled in a new space. Marco Ursino, one of the owners of indieScreen, which combined an independent film theater with a restaurant and bar, is still in search of a new home for his business.
"Basically, the lease expired and we had to go," said Mr. Ursino, who had been in the building for five years. IndieScreen was paying $14,000 monthly for 7,500 square feet, well below market rate.
Though it may be staggering for New Yorkers who remember Williamsburg's south side as drug-laden and desolate to be commanding $60 per square-foot for commercial space, Mr. Conner emphasized that this is still a better bargain than across the river, where Flatiron District-area rents can run into the mid-$80s per square foot.
"If you look at Williamsburg at 60 dollars and you wince, look at it next to Silicon Alley and you see that represents a 30 percent discount," he explained. "For many people, they feel that they're getting the cooler alternative at the bargain rate."
And without Mr. Conner, Sol Markowitz stressed, this long-shot arrangement would have been unfeasible.
"[Drew] did an unthinkable thing … He knew what Vice was looking for, and he knew us. We were friends," Mr. Markowitz said. "Without him, Vice 100 percent wouldn't be in this building."