Times Square Hilton Garden Inn Closes At $122.2M: City Records
---
---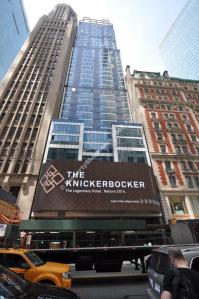 Bethesda, Md.-based DiamondRock Hospitality Company has purchased the Hilton Garden Inn/Times Square Central for $122.2 million, according to property records filed with the city yesterday.
The deal closed on Aug. 29 and was announced by the firm on Sept. 2.

"The acquisition of this new, state-of-the-art hotel located in the heart of Times Square is a great addition to our portfolio," said Mark W. Brugger, the president and chief executive officer of the company, in a press release. "The hotel enjoys a prime location within Times Square that will benefit from tremendous demand from both business and leisure travelers."
DiamondRock is a real estate investment trust that owns 27 hotels.
The Hilton Garden Inn/Times Square Central, located at 136 West 42nd Street between Avenue of the Americas and Broadway, has 282 rooms across its 35 stories. It opened to the public on Sept. 1 and is operated by Highgate Hotels.