Stat of the Week: 9.4 Percent
---
---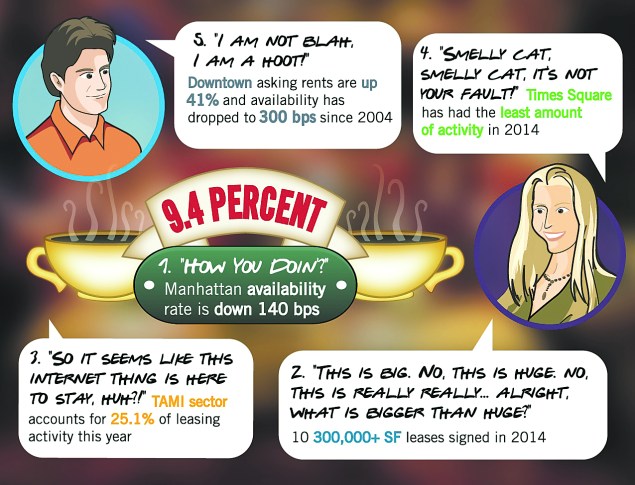 This week marks the 20th anniversary of another New York-based sitcom that entertained millions of people for 10 seasons—Friends. Throughout the years, the six main characters had some very quotable lines that made me think of the current New York real estate market. So it is my duty to write a Friends-based article, because it is hard to sidestep my duties. (See—I already started!)
5. "I am not blah; I am a hoot!" Chandler Bing said this line, and if lower Manhattan could talk, it would be screaming this, too. Ten years ago, when Friends went off the air, the lower Manhattan availability rate was 13 percent and asking rents were $36.03 per square foot. Flash-forward to today, and lower Manhattan is a hoot! Availability stands at 10 percent and asking rents average $50.82 per square foot.
4. "Smelly cat, smelly cat, it's not your fault." Lyrics made famous by Phoebe Buffay's song, and words that ring true for the Times Square submarket this year. Not only has this submarket had the least amount of square footage leased as a percentage of its market size this year, but it also suffered the worst year-over-year jump in availability, by 450 basis points to 11.1 percent. Times Square, it's not your fault.
3. "So it seems like this Internet thing is here to stay, huh?" Chandler could not have been more right. This year, the TAMI sector has accounted for 25.1 percent of the leasing activity and the average deal size is nearly double that of the rest of the market.
2. "This is big. No, this is huge. No, this is like really, really … alright what's bigger than huge?" Phoebe was not talking about leases larger than 300,000 square feet, but I am. This year there have been 10 leases signed north of 300,000 square feet, already one more than signed in all of 2013.
1. "How you doin'?" Joey Tribbiani, my loveable Italian brother, used this pickup line and it was the show's most repeated catchphrase. So how is the Manhattan office market doin'? The availability rate is down 140 basis points, to 9.4 percent, this year. That's its lowest level since September 2008. It also marks the largest eight-month decline during this recovery. I would say Manhattan is doin' well.